---
On this page:
---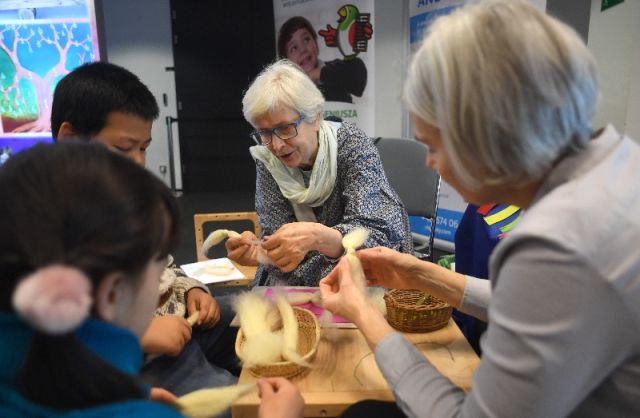 Poland Waldorf schools philosophy
Waldorf education, founded by Rudolf Steiner in 1919, provides a unique alternative to mainstream education. It's sometimes referred to as "Steiner education."
Most private and non-public Waldorf schools in Poland follow similar principles. Keep in mind, not every school follows these principles, and different schools apply them in different ways.
Individualized curriculum
Focus on the whole child
Focus on arts and creativity
Imaginative learning
Practical learning
Delayed formal academics
Interdisciplinary curriculum
Focus on non-mainstream subjects
Focus on nature
Individualized curriculum
Waldorf schools, like Montessori schools, don't have a standardized curriculum. With help from the teacher, kids have the freedom to choose their own tasks and activities and work at their own pace. This allows them to work in a broad range of areas and pursue their interests and passions. It can also stimulate their curiosity and inspire a love of learning.
Focus on the whole child
Waldorf schools don't just focus on core academics. They educate the whole child. Teachers nurture the cognitive, practical, and artistic sides of kids. They also instill important values in them, including independence, responsibility, respect, and empathy.
Focus on arts and creativity
A hallmark of Waldorf education is the focus on art and creativity. Art is infused throughout the curriculum. This includes visual arts, music, drama, storytelling, poetry, and crafts. For instance, lessons often start with a story or a song. This helps enliven learning and gets kids fully engaged.
Imaginative learning
There is a big focus on imaginative learning and pretend play, especially at the lower levels (unlike Montessori preschools). In preschool and kindergarten, kids are given plenty of time for free play, circle time, and outdoor recess. They also take part in games, role play, and other activities that promote imaginative learning and develop social skills.
Practical learning
Students do lots of hands-on learning in preschool and the early elementary years. They learn to cook, clean, and garden. They also help teachers with tasks in the classroom. Children thereby learn key practical skills, and start becoming more responsible.
Delayed formal academics
Formal academics starts later than in most other schools. Kids normally don't receive formal instruction in core subjects until grade school, when they're good and ready. Core subjects, such as math, science, and reading, normally start early in elementary school, in grade 1 or 2.
Interdisciplinary curriculum
Core subjects, such as math, science, and English, are taught in main lesson blocks, of two to three hours per day. Each block lasts between three and five weeks. The blocks are integrated with other subjects, topics, and parts of the curriculum. Subjects are rarely taught in complete isolation.
Focus on non-mainstream subjects
Many non-core subjects and skills are featured in the curriculum. For instance, kids learn musical instruments, gardening, mythology, and nutrition. They also spend a lot of time on the fine arts, such as painting, drawing, sculpting, knitting, weaving, and crocheting. Both girls and boys learn these skills, since no stock is put in gender stereotypes.
Focus on nature
Children are given plenty of natural materials. Environmental education is also a big focus. This promotes an appreciation for nature. It also has broader benefits. As L.D. Davey ("Play and Teacher Education", 1998) explains: "A fundamental principle of early childhood education is that young children learn about the world most readily by interacting with their environment."
Benefits of Poland Waldorf schools
Waldorf schools in Poland are a great option for many students. This includes international students from Canada, the US, and other countries. It also includes local students from Poland.
Waldorf schools are unlike any other type of private school in Poland. They have a variety of appealing features. To learn more about the benefits of Poland private and non-public schools in general, read our guide. We also provide advice for choosing a private school in Poland.
Great academics: These schools are well-known for having high-level academics. Starting in grade school, Waldorf schools offer a wide range of challenging courses. This includes core subjects, such as math, science, and the language arts. But it also includes the visual and performing arts, music, history, geography, zoology, foreign languages, dancing, and gymnastics. Students are held to high standards and encouraged to achieve their best.
Dedicated teachers: Waldorf teachers are first rate. They allow students to build confidence and curiosity, and inspire a love of learning. Most of these teachers have been trained by certified institute in Waldorf education, such as the International Association for Steiner/Waldorf Early Childhood Education (IASWECE).
Small classes: Many of these schools have small classes and low student-to-teacher ratios. This enhances learning in many ways. It can offer a more intimate and interactive classroom, one with plenty of participation. It can also allow teachers to provide more attention and support for each student in class, and tailor their approach to meet individual learning needs.
Cost: These schools tend to be reasonably priced, compared to other private and non-public schools in Poland. This includes boarding, international, and many types of day schools. Waldorf tuition ranges from $5, 000 to $25, 000 a year. This varies based on school size, location, level, and other factors.
Language learning: Many of these schools, including some in Warsaw, offer specialized language programs. For instance, some provide English-language and bilingual, Polish-English instruction. Some also offer foreign-language courses, such as French, Spanish, Italian, German, and Japanese.
Diverse student bodies: Some of these schools cater to international students and have have English-language courses. International Waldorf schools have diverse student bodies. Children, in these schools, learn with kids from many different countries and backgrounds. They also have the chance to learn about new cultures, customs, and values.
Parental involvement: Most of these schools promote extensive parent involvement. There's an ongoing dialogue between parents, teachers, students, and administrators. Parents are also encouraged to get involved in the school community. This allows them to be an integral part of their child's education.