---
On this page:
---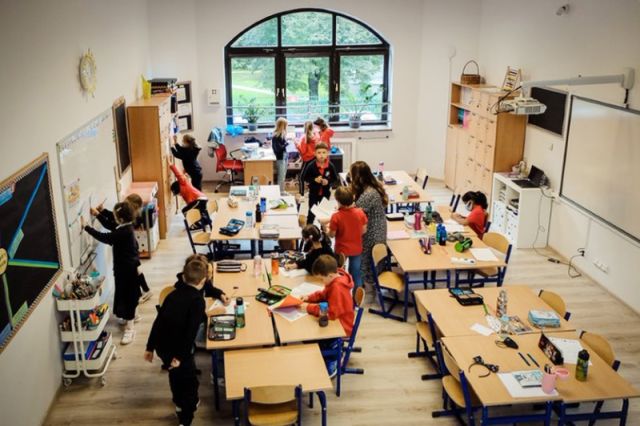 The school provides a dual curriculum, by implementing the Primary Years Programme in English, with students simultaneously fulfilling the requirements of the Polish National Curriculum, in preparation for their all-important 8th graders' exams.
Our Kids spoke with Adam Black – CSW elementary Vice Principal and longstanding homeroom teacher from Dorset in the UK – about the school, its history, strengths, and plans.
The unique character of the school
Our Kids: Your school has the word "Canadian" in its name—what does that mean in practice?
Adam Black: Originally the school was founded by a group of open-minded, multicultural parents from Poland, the USA, and Canada. While searching for an appropriate programme for their children, they discovered that the Alberta curriculum was in line with their combined ideologies, so, nearly twenty-two years ago – on Valentine's Day – The Canadian School of Warsaw was founded, and although since then we have adopted the IB's Primary Year's Program, we are still proud of our heritage, and maintain a close connection with the Canadian embassy.
Our Kids: What makes The Canadian School so unique?
Adam Black: The initial objective was to create a dream school for children: bilingual, open-minded, creative, and multicultural. A school designed to meet the needs of individuals, while providing the highest levels of education, in a stress-free, respectful environment: attributes we still hold dear, and which continue to appeal.
Over the years, the school has grown, both in terms of numbers - from one, to three unique, specifically designed cosy campuses (with a fourth soon to be unveiled) - as well as the quality of service we provide, which are of the highest standard.
We exemplify a holistic approach to child development, which focuses on our students' intellectual and psychological needs, and visitors are always struck by how well we know our students, as well as by the level of friendliness and positivity immediately apparent at each of our campuses.
Since its opening, the school has fostered – across the board – a community based on kindness, respect, tolerance, and awareness of ecology, which, combined with our authorized IB status and successful bilingual programme, makes us exceptional.
In 2014 your school was officially authorized by IBO as an IB school. What does that mean for your teaching philosophy and methodology? What kind of a graduate do you produce?
We offer the IBO's Primary Years Programme: an inquiry-based, transdisciplinary curriculum framework that builds conceptual understanding and acquired knowledge through hands-on research, projects, presentations, and the natural curiosity of individual learners.
Students at the Canadian School of Warsaw use their initiative to take responsibility and ownership of their learning. They develop knowledge, skills, and an understanding of the concepts, attributes, and attitudes that make a difference in their own lives, their communities, and beyond.
During the busy months of adventurous learning, our students explore and inquire into six transdisciplinary themes of global significance: Who We Are; Where We Are in Place and Time; How We Express Ourselves; How the World Works; How We Organize Ourselves; and Sharing the Planet.
Through these themes our teachers focus on offering the students authentic opportunities to connect their learning to the world around them, which in turn ensure our students remain active participants in their educational journeys: enthusiastic, independent learners, who exemplify positive approaches to learning.
The IB programme
Our Kids: What are the requirements the school needs to satisfy to get the official authorization from IBO? Is it a complicated process?
Adam Black: Having been with the school for the better part of seventeen years, I've been involved with all stages of our IB authorization journey. As such, I can confirm that it is a complicated, rigorous - as well as - fascinating, stimulating and inspiring process.
Upon confirming our intention to become an IB World School, all levels of our educational body - from the school's directors, leadership team, homeroom, and specialist teachers – underwent (and continue to undergo) meticulous levels of training, designed to ensure we could deliver a standard of transdisciplinary instruction that is in-line with the IB's unprecedented educational standards.
It's an ongoing journey, that requires considerable levels of commitment and engagement on the part of all members of the team, not least because the IB themselves continue to review and "enhance" the PYP, necessitating further reflection and revision on our part. In this sense, we act as role models to our students, since we actively exhibit what it means to be dedicated, lifelong learners.
Our Kids: Can you explain the inquiry method, which is said to be typical of IB programs?
Adam Black: We encourage a positive attitude to learning by challenging students to solve problems, show creativity and resourcefulness and participate actively in their communities. Students at The Canadian School of Warsaw are challenged to choose their actions based on learning and interests that arise during inquiries, while the Inquiry Cycle is a working model, we use to guide learning experiences, research, inquiry, and enrich social interactions.
As part of the International Baccalaureate's Primary Years Programme, we encourage students to exemplify the IB Attitudes, while cultivating the attributes of the IB Learner Profile in all students. These are vital aspects of the development of positive attitudes toward people, the environment and learning.
Consequently, our students demonstrate a deeper sense of learning by applying their knowledge to service and action. The PYP Exhibition in Grade 6 is the culminating process of our students' experiences as an IB learner. This process celebrates their growth as international students and global citizens. It provides students with an opportunity to demonstrate their knowledge, attitudes, learner profile, and collective ability to take action, while being involved in an investigation of their own design.
Teachers
Our Kids: Who are your teachers?
Adam Black: A highly-qualified and experienced group of multicultural global citizens – from Switzerland, Canada, Great Britain, South Africa, USA, Peru, the Philippines, Ukraine, and Poland – united by their comprehension and enthusiasm for the implementation of the programme, as well as by their kind, considerate, holistic approach to our students and their education.
Students
Our Kids: What about your students?
Adam Black: When I first joined the school, I discovered that half of our students were Polish. Over the years this proportion of Polish to international students has remained much the same, as has our school's aptitude for attracting and fostering multicultural, tolerant, creative, caring, academically minded students.
Naturally, since the school is primarily an English-speaking environment, with all lessons – apart from Polish and French – being taught in English, our students are adept at language acquisition, and are well on their way to becoming universally independent, balanced, lifelong learners.
Our Kids: Are there many students who started their education in your school from the very beginning—from preschool—and have gone through your whole system, right up to Grade 8?
Adam Black: Yes, many. Parents trust our model of education, they have faith in our school, and – provided they stay in Poland – remain confident that we're the right choice for them. Only last year I shook hands with multiple 8 graders who had passed through our preschool, and who I had taught in younger Grades.
Of these, many were siblings of former, current, or upcoming students since we maintain a close relationship with families. It is an exceptional privilege to witness children you've taught become young adults – now studying in the likes of Cambridge, Oxford, NYU, and UCLA (most with scholarships) – and to have played a part of their ongoing development and journey.
Our Kids: What students are best suited for your school?
Adam Black: We're strong advocators of educational diversity and differentiation. As such, provided students demonstrate school readiness, and a propensity for language aquation – specifically English and Polish, so that they can effectively follow our educational program – all children are considered suitable.
Naturally, we strive for academic excellence, however, we ensure this never comes at the cost of stealing the joy from education, much of which stems from the acknowledgement that not everyone is destined to become a strict academic. We ensure that education is an exciting journey, full of discovery and fun, we focus on creativity. Children who develop a positive attitude towards learning – as well as acquiring skills and knowledge – are set for life.
This is where the IB really comes into its own: it helps us to assess what kind of learners our students are, and although it is our collective responsibility to foster elements of each of the eight attributes in our students – so that they remain balanced learners – all students are predisposed towards specific attributes, and consequently, approaches to leaning must be adapted to suit their individual needs.
As a close community, we have a unique opportunity to really get to know our students, recognise their skills, predispositions, and interests, and – taking this information into consideration – support our students accordingly.
The pandemic
Our Kids: How has the school responded to the pandemic?
Adam Black: From the outset, thanks to our exceptional IT Manager, the adaptability and professionalism of our teachers – not to mention the quick witted, decisive actions of our leadership team – we were able to immediately provide quality online learning, that followed regular scheduled lessons.
After the first outbreak, we received numerous commendations from grateful parents, keen to show their gratitude for alleviating much of the stress from that otherwise uncertain period. Since then, we have continued to implement – and refine – a successful response protocol in successive lockdowns.
In addition to which – even when the whole school was online – we managed to host multiple student assemblies and competitions, including our annual French song contest, photography and art events, poetry recitals, and a month-long campaign to promote love and kindness, which culminated in live presentations from all grade levels.
Since then, we have received considerable interest from prospective families, who – based on positive reviews and word of mouth – are keen to join the school, lest such situations become the norm, and on-campus learning continues to be disrupted in this way.
However, I would like to stress that, while we are quick to provide effective online or hybrid support, getting everyone back to school as soon as it is safe to do so – where our students' educational and social needs can most effectively be met – is always our number one priority.
Achievements
Our Kids: What are you most proud of? What are the biggest achievements of your school?
Adam Black: I immediately think of smaller, individual triumphs that have stuck with me over the years: times breakthroughs came, where students suddenly realised that they could read or understand something which had previously evaded them. Times I was presented with artworks, written works, presentations, and performances which took such care and determination to complete – and which were so exquisite - they made my heart leap with joy.
Then there's the numerous successes of our students, like our OJAJ and Kuratoryjny competition winners! OJAJ is a multi-staged national English competition organized by the Ministry of National Education. Our students represented 15% of the overall winners in Poland: six Laureates and two finalists and won free access to any - even the most prestigious – public Polish high schools in Poland. In addition to which, we had two finalists in the Kuratoryjny English competition, organized by the Mazovia School Superintendent.
I have always been overwhelmed by the caring and compassionate nature of the school community, especially by the charitable actions – such as fundraisers, and concerts – lead by students, teachers, and parents, including the Noble Parcel incentive, and regular support for Warsaw dog shelters. One of my favourites being the school's annual involvement in the SHOM International Charity Bazaar, where we manage the entire children's area: providing creative, festive activities, as well as a Santa loaded with goodies, and a live musical performance. This goodwill extends to the way our school rallied together, and became a stronger community during the pandemic.
However, in the past sixteen years, I've witnessed many changes at school, not just in our implementation of the PYP, but in the way we have endeavoured to further improve upon the quality of its services, reflect upon the needs of our clients, and realize positive change.
I think it's this collective adaptability, and continued dedication to improving the programme, that I'm most proud of, and which can most clearly be seen through our recent Grade 6 Online Exhibitions.
The culmination of years of hard work, the Grade 6 Exhibition is ordinarily a huge event, whereby all members of the school community – students, teachers, parents, and guests – are invited to a live presentation designed to showcase our students' collective abilities as researchers, independent learners, and communicators. If you need a clear example of student agency, then look no further.
However, when schools first went online, we were posed with a challenge: How do we authentically showcase our students' work – and successfully complete their PYP journey – when we can't physically bring the school community together? The answer: the construction of an interactive online exhibition.
One look at the website and you begin to appreciate the time and effort that went not only into the platform, but the work on display: jampacked as it is with persuasive speeches, performances, interviews, and other supporting materials.
As a school, we are exceedingly proud of our Online Grade 6 Exhibitions, since they represent unprecedented levels of commitment, enthusiasm, and creativity:
The Canadian School gladly welcomes students, parents, and guests. We are a community of Global Citizens and lifelong learners: a mindful, open-hearted team, with lots to offer for mind, body and soul.