---
On this page:
---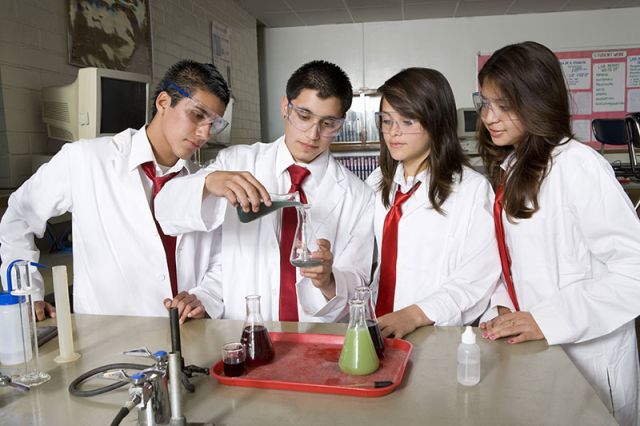 Types of Warsaw high schools
Below are examples of private schools operating in and around Warsaw.
Sports-focused
Arts-focused
Music-focused
Humanities-focused
There are also various combinations, e.g., there's a Catholic school which is also a boarding school, social school (treated as a type of private school) which is also a school for the humanities. There is also an international Montessori school. These schools also function as general secondary schools with, for example, bilingual, sports, arts, or international departments, with the option of passing the international high school diploma.
What Warsaw private high schools offer
Private high schools in Warsaw, especially international ones, offer a high level of teaching, unique programs, qualified teaching staff, appealing extra classes, and more. International high schools teach in a foreign language—usually English, or are bilingual—in Polish and English. Some implement the core curriculum set by the Polish Ministry of National Education, while others offer foreign curricula, such as that of the US, Canada, and Britain. Many offer the opportunity to do the International Baccalaureate (IB), which facilitates admission to foreign universities.
These schools educate students from many countries around the world. The best private high schools in Warsaw (with an emphasis on international ones) don't complain about the lack of applicants, especially those occupying leading positions in national rankings for years.
You can read more about the advantages of studying in a private Warsaw high school below.
Benefits of private high schools in Warsaw
A wide range of teaching: private schools in Warsaw are known for their stringent requirements and high level of teaching. They employ the best specialists, among which teachers with degrees are no exception. They offer a wide range of taught subjects, including mathematics, natural sciences, history, art, culture, and society, as well as many additional scientific, artistic, and sporting activities.
Development of scientific skills: Warsaw's private high schools offer a wide range of classes developing students' knowledge and scientific interests. Many schools, especially international ones, offer the International Baccalaureate Programme, which facilitates entrance to the best universities in the world. Some also offer the Advanced Placement (AP) courses, as well as other advanced educational programs.
Language learning: private high schools aim to provide their students with the highest quality of language learning. In most of them, the language of instruction is English or classes are conducted in two languages—Polish and English. In some schools, only certain subjects are taught in English or another language, and the dominant language is Polish. In addition to learning basic languages, private schools offer a wide range of intensive foreign language courses, including French, German, Spanish, Italian, and Mandarin.
Quality of teaching: private schools in Warsaw and elsewhere are known for well-educated teaching staff. Educators not only meet the high requirements set by the Polish educational authorities, but often also have experience of working in foreign educational institutions. They are true enthusiasts of their profession, which translates into their attitude towards students. Many schools are units certified by the International Baccalaureate Organization, guaranteeing the preparation of the student for functioning in an international educational environment.
International environment: students from all continents attend international Warsaw schools—children of diplomats, entrepreneurs, and high-end specialists who for some reason found themselves in Poland, as well as Polish children. Learning in such a diverse international environment can be a great experience for a child. Acquaintances and friendships made during this time can also be highly rewarding.
Independence: studying in an international school, just like living in Warsaw, can definitely accelerate the development of a child. Being in a foreign country, city, in a foreign culture, the child will be subjected to new, unusual challenges, which he will have to deal with quickly. Thanks to this, he will gain great experience and become more independent. He will also have the opportunity to meet new people (not only Poles), visit new places, and travel around Poland and throughout Europe. This can be a valuable life experience.
Costs of a private high school in Warsaw: tuition and other fees
If you choose a private high school in Warsaw, you must consider the costs—tuition and other fees. What are the prices? It depends on many factors that we discuss here.
Tuition
The main expenditure is tuition—the fee for your child's school education, usually paid monthly. Sometimes, international fees are given on an annual basis. Tuition is one of the most important features that distinguish private schools from public schools—which are free in Poland.
Also, note: in some schools parents pay tuition fees every month throughout the year (12 months, including holidays), and in others for 10 months, i.e., without summer holidays. This is important to know.
An analysis of several dozen private schools in Warsaw showed that tuition fees range from PLN 700 up to PLN 3300 per month. But most often you see a monthly amount of around or just over 1000 PLN. In some schools, tuition fees depend on the level of education.
In more expensive international schools, tuition fees are given as an annual amount, from 20,000 to 51,000 PLN, of course payable in installments.
Some schools vary the annual amount of tuition depending on whether it's paid in 10 installments (e.g. PLN 11,800) or 12 installments (PLN 11,900), and the lowest annual fee (PLN 11,000) comes when parents pay the full amount in advance.
Usually, schools are open to various forms of payment plan, offering the possibility of spreading them into other installments.
A common practice of private schools, as well as social ones, are discounts for another child from one family enrolled in the same school.
Other expenses
In addition to tuition, there may be other expenses, though.
Boarding
The matter of boarding students is handled differently in different institutions. Most often, schools offer meals prepared and brought by catering companies and served either as in a restaurant or as a buffet. Prices are very different, from 11 PLN per day to 6-12 PLN for each meal. Sometimes breakfast and afternoon tea are included in the tuition fee, and only lunch is paid separately. Some schools have their own cafeterias where meals are prepared in place. Generally, you have to take into account the additional costs of feeding your child at school.
Entry fee
This is a one-time non-returnable fee charged when registering a child. After paying it, you'll know your child has a guaranteed place in the school.
The amount of this fee varies—looking at several dozen private schools in Warsaw showed that the entry fee ranges from 100 to 1500 PLN, but most often it's about 800-1000 PLN. This is sometimes counted towards the tuition fee, though. There are some very expensive and exclusive schools, where the entry fee includes two elements: one-time fee and an additional/recruitment fee, but these are exceptions.
Some schools also have additional charges:
• Recruitment fee: 150-400 PLN
• Fee for classes and recruitment interviews: 100 PLN
• Recruitment fee for the trial week: 200 PLN
Our Kids recommends
For much more about fees, what may and may not be included in tuition, and what to look for when considering costs, read Tuition in private schools in Poland.
If you're interested in private schools in general, we recommend: Why go to private school? and Benefits of Polish private schools.