---
On this page:
---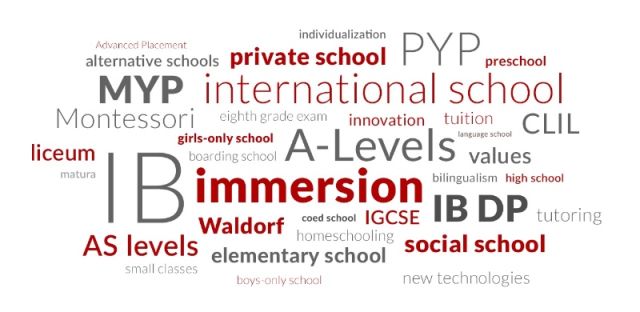 OurKids.net is a place where you'll find answers to all these questions. It's the only bilingual compendium of knowledge about private education in Poland, where you'll find hundreds of articles (in Polish and English) on important educational issues. While before this info was hard to track down parents can now find everything they need to find the right school in one place—OurKids.net.
In this article, you'll find a glossary of basic concepts and terms as well as links to articles that discuss them in more detail.
Curricula
• International Baccalaureate
The International Baccalaureate® (IB) offers a continuum of international education. The IB Programme encourages both personal and academic achievement. In order to teach the IB, schools must be authorized by the Geneva-based International Baccalaureate, non-profit foundation created in 1968. The IB curriculum is recognized around the world and is easily adaptable to local and national standards.
Our Kids about schools with the IB program
Currently, this program is implemented at three levels:
- PYP (Primary Years Programme) is for kids aged 3-12. Its core components are knowledge, concepts, skills, and attitudes students need to succeed in life.
- MYP (Middle Years Programme) is an international five-year program at the lower secondary level for students aged 11-16. It covers eight subject groups: foreign languages, language and literature, individuals and society, experimental sciences, mathematics, art, physical and health education, and design.
- IB DP (International Baccalaureate Diploma Programme) is a diploma programme for students aged 16-19 leading to an International Baccalaureate diploma, recognized and highly valued by leading universities around the world.
• Cambridge
Cambridge Assessment offers international education for students aged 5-19. It works at four levels: Elementary (5-11), Lower Middle (11-15), Upper Middle (14-16) and Advanced (16-19). It's part of the University of Cambridge and works closely with many of the world's most successful education systems.
• Montessori
Montessori is an approach to education, created by Italian doctor Maria Montessori, which is based on the idea that the child has a natural desire and curiosity to learn, and learns most effectively in an environment of freedom, with the best results achieved when a child is passionate about learning and no one interferes with their cognitive processes. The Montessori approach is implemented in Poland at all levels of education—there are Montessori preschools, as well as primary and secondary schools.
• Waldorf
Waldorf pedagogy, or "Steiner education," was initiated by Rudolf Steiner in 1919. Waldorf education focuses on the child as a whole. Teachers foster the cognitive, practical, and artistic aspects of children's development. Waldorf schools also instill important values ​​in children such as independence, responsibility, respect, and empathy.
Our Kids about Waldorf schools
Accommodation
• Boarding schools
Students and teachers live on campus, with students typically living in a boarding school throughout the school year. This provides students with a full immersion in academic and social life. This option is popular with foreign students.
Our Kids about boarding schools
• Homestay
Instead of living on the campus of a boarding school, students live with a host family, usually close by the school. This option is popular with foreign students.
Types of non-public schools
Educational institutions in Poland are divided into two groups: public and what in Polish is called niepubliczne—non-public. What the latter have in common is they're established and run by entities other than the local government, they charge tuition fees, and, unlike public schools, aren't obliged to respect the principle of regionalization, which means they're free to accept any students, not only those in the area. Within the category of non-public schools there are two distinct types of schools—private (prywatne) and "social" (społeczne).
• Private
These schools are established by individuals or companies and are for-profit. Most non-public schools, e.g., international schools, are private.
• Social
Social schools (szkoły społeczne) can be established by individuals, associations, foundations, and social organizations. They have a specific educational mission although they charge tuition, funds are earmarked for the work and development of the school, and the body running the school doesn't profit from them. In the initial period of establishing these schools, they were founded most often by the Social Educational Society (STO), and many schools run by STO have the adjective "social" in their names. These schools are characterized by significant parental involvement.
Programs and exams
• Polish eighth-grade exam
A standardized examination in Grade 8 of primary school. This exam is compulsory and its results are important for admission to secondary school.
• Polish matura exams
These are diploma examinations taken at the end of secondary school education. The Matura isn't compulsory, but students must pass it to be able to apply to a university in Poland or abroad.
• Cambridge IGCSE
An internationally-recognized program for students aged 14-16. The evaluation of the results occurs at the end of the program and consists of a written exam, an oral exam, course work, and a practical exam.
• Cambridge O Levels
An internationally-recognized program, Cambridge IGCSE and UK GCSE equivalent. When creating their own curricula, schools can choose from over 40 subjects in any combination.
• English IELTS
An international language-testing system used to assess the level of English proficiency, used by higher education institutions and as a qualification for study abroad. It assesses reading, writing, listening, and speaking skills.
• A levels
Advanced-level examinations in various subjects administered as part of the General Certificate of Education (GCE). They're also used by educational institutions around the world as exams for students who graduate from high school. The advantage of the A Level exam is that it's accepted at universities in Great Britain, the US, and Europe.
• AS levels
Exams administered by schools and colleges for students aged 16-19. They can be taken as a separate exam or as the first part of an A level course.
• AP (Advanced Placement)
University-level courses aimed at high school students. Some universities and colleges exempt students with high AP exam scores from some of their courses.
• SAT
A standardized test for US high school students used for admissions to college. It's also used by some international schools.
• SSAT (Secondary School Admissions Test)
It's used as an entrance examination to private high schools. If you're considering an elite North American boarding school, you must receive excellent results on this test.
Languages
• Immersion
Immersion in a foreign language implies that most or all subjects are taught in this language. Instead of taking language courses, students learn a language by using it in everyday situations outside the classroom and absorbing the knowledge taught in that language.
• Bilingual schools
In bilingual schools, the Polish core curriculum is used, usually supported by elements of curricula from other countries. Teaching—as the name suggests—is conducted in two languages.
Our Kids about bilingual schools
• International schools
In international schools or classes, education is conducted in a foreign language (most often in English) in accordance with the selected international program. For this reason, an international school is a good choice for children who don't know Polish, although they'll at least learn it at the primary school level.
Our Kids about international schools
• CLIL (Content and Language Integrated Learning)
This is an innovative teaching method, where subjects such as history, geography, or other subjects are taught through a foreigh language. The modern CLIL method is recommended by the European Commission to promote language learning and linguistic diversity.
• Bilingualism (bilingualism)
The ability to use two languages ​​equally well, both in speaking and in writing. It's believed that the number of bilingual and multilingual people in the world is higher than the number of people who know only one language.