---
On this page:
---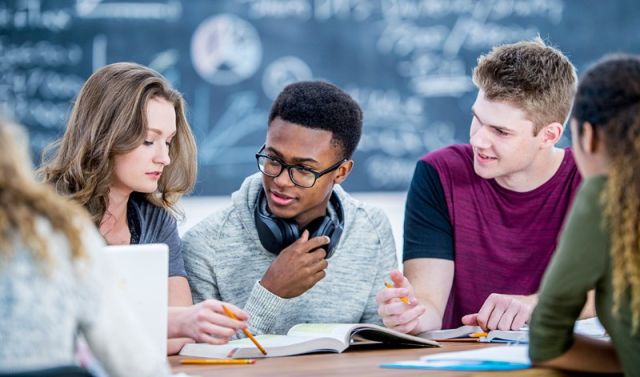 The A-Level (Advanced Level) diploma comes from Great Britain, where it's a common qualification to study at the best British universities such as Oxford, Cambridge, London School of Economics, Imperial College London, and many others.
The advantage of the A-Level exam is that it's accepted at universities not only in Great Britain, but also in the USA and Europe.
A-Level qualification was introduced in Great Britain in 1951 and its idea is to educate the best candidates for leading universities. It focuses primarily on academic, rather than on civic aspects, as in the case with IB.
UK education system
Secondary education in Great Britain lasts four years. After the first two years (ages 14 to 15), students pass the exams developed by Cambridge International Examinations: GCSE (General Certificate of Secondary Education). For students studying outside Great Britain, the equivalent of this exam is the so-called iGCSE (International General Certificate of Secondary Education).
For the next two years, students work towards their A-Level exams. The first year, the so-called Advanced Subsidiary (AS Level), involves the study of four subjects selected by the student, and in the second year the student continues three of them.
A-Level Diploma subjects
Students have a large choice of subjects: art and design, biology, business, chemistry, computer science, design and technology, acting, economics, English, English literature, French, extended math, geography, German, history, law, math, media/ film/TV, music, physical education, physics, political science, psychology, religious studies, sociology, Spanish, and more.
In the first year, students choose four subjects, and in the second, three.
Mark Moore, director of Akademeia High School, which implements the A-Level diploma program, explains: "Compared to schools that offer the IB Programme, our students have fewer subjects, but they study them in much greater depth, with an emphasis on independence and critical thinking skills. In addition, the school provides a wide range of extracurricular activities. For the last two years of their schooling, students prepare for the diploma examinations in three subjects and can concentrate entirely on them. For example, if a student is extremely gifted in mathematics, they have a unique opportunity to deepen their knowledge in this subject and two related subjects, such as physics or chemistry. Of course, students can study other, additional subjects, such as foreign languages or history, but they do not have to take any exams, and this significantly reduces the pressure they experience."
Who is the A-Level program most suitable for?
The A-Level program works best for students with specific interests they want to develop. It's good if the student knows what their plans for higher education are when applying to the school with the A-Level exam program. This is because the choice of subjects studied in depth will depend on this decision. With fewer subjects, they can concentrate fully on them.
However, if an ambitious 15 to 16-year-old doesn't have focused plans for higher education, they may benefit more by choosing the international IB diploma, which provides a more general education and thus allows more flexibility in choosing a further education path.
Features of the British A-Level diploma
There are no mandatory elements in A-Levels; students choose only subjects in which they can succeed and which interest them. The other renowned diploma program—the International Baccalaureate (IB)—offers a wide range of subjects, many of which are compulsory. This broad curriculum is considered to be the main advantage of the IB, but not all students enjoy the compulsory elements of the program, especially Knowledge Theory and CAS (Creativity, Activity, and Service).
Comparison of Polish, British (A-Level), and IB diploma exams
Akademeia High School made an excellent comparison of these three types of high school diplomas: