---
On this page:
---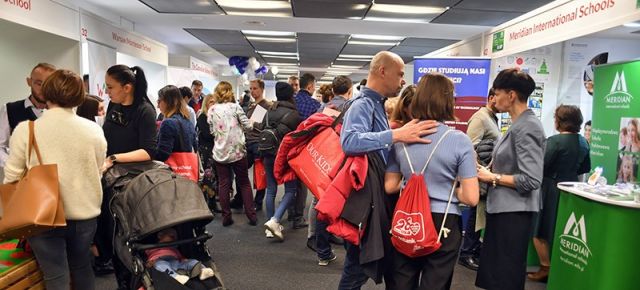 The fair was attended by over 1,200 visitors, who listened with great attention to what the principals and teachers of the exhibiting schools were saying. Families had an opportunity to meet principals, teachers, students, and graduates, ask a lot of questions, get useful materials, and make appointments to visit schools and other Expo exhibitors.
In addition, Our Kids organized three informative educational seminars in the adjoining auditorium, where parents could learn a lot about private education from experts including principals, teaching experts, psychologists, and educators. You can read about them as well as watch and listen to them in our article: "Co rodzice powinni wiedzieć poszukując szkół dla swoich dzieci? Trzy seminaria edukacyjne na targach Our Kids" (in Polish).
Among the exhibitors were international schools, bilingual and multilingual schools, Catholic, Jewish, and non-religious schools. The schools represented a variety of methodologies such as experimental, Montessori, Waldorf, IB, and homeschooling. There were boarding schools located abroad, schools where teaching is based on the Polish curriculum, and those following foreign curricula such as British, Canadian, and American. All of them were visited by crowds of parents with their children, looking for the best schools for their children, and curious to learn about the schools' curricula, their culture, and teaching methods.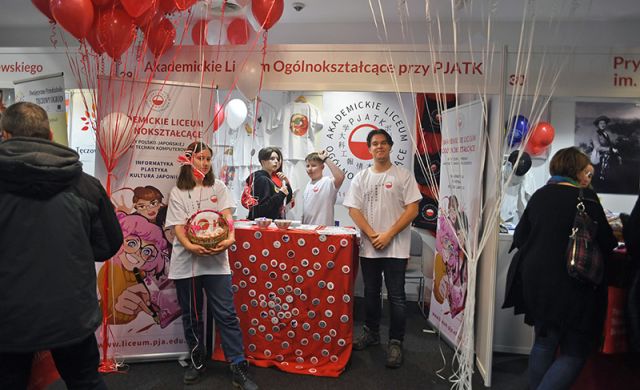 Parents came with different expectations and needs—some were looking for schools for their children who were just about to start their adventure with education, others were interested in schools for adolescents—already thinking about their future studies and professional future, in Poland or abroad. What was their experience like at the Expo? How did they rate the event? Here's what we heard:
Parents' opinions
Below are some opinions and observations of families who visited the Expo.
"We are not choosing a school yet, so we treat the Expo as a starting point for further research," say the parents of two boys. "Our younger son is three years old, so in his case we still have time, but Janek is already five and we are wondering whether he should go to "zerówka" (prep zero year) at a preschool or at an elementary school. The next question is—public or private? We have to decide. We have a public school close to home. On the other hand, we want Janek to study in a bilingual environment, which this school will not provide. It is important for us that the foreign language is learned in class, not after class."
"We are looking for a happy and friendly school for our child, but with some rules," say the parents of 7-year-old Staś. "We want it to be a bilingual school, because it is important for our son to learn a foreign language during the time he spends at school anyway. It is very important that the school does not have an atmosphere of competition, benchmarks, or pressure. We want it to be a child-friendly school. We are looking for something that will be between Montessori and a traditional school. We have already spoken to a recruiting officer at one private school; now we will talk to representatives of other schools. We will definitely choose one. We plan to spend up to PLN 2000 a month in tuition fees, so that won't be a problem."
"We came to the Expo to find out more about private schools. We're thinking about them primarily because of foreign languages. We have three children—two in primary school, which we are satisfied with. This is a private language school where classes are conducted by native speakers, so language learning is conducted at a high level and this is what we are really looking for. Today we are looking for an alternative—we're checking out what's on the market because our goal is to find the optimal facility for our kids. We are also looking for a new school because what is good in Grades 1 to 3 is not necessarily good in Grades 4 to 8. In addition, we take into account the location, number of school hours—many factors. When we've analyzed them, we will make a decision," parents of three children say.

"For our son Michał, we are looking for a primary school with English but not American or British. We want him to learn normally—the Polish language, the history of Poland, because we do not want to cut him off from his roots. We want him to be given adequate attention and support in case he needs some. We want him to have a lot of sports activities. The school is supposed to enable him to develop further.
Currently, he attends an international kindergarten and we'd like the school to have the same character. Languages? Mainly English, but we also look for other languages. Michał dreams of Japanese because his friend is Japanese, but this is not a must. We would certainly like the school to have students from other countries because that teaches kids to be open to other cultures. Having to pay tuition fees does not deter us because it's obvious that you have to pay for quality. We live in the centre of Warsaw and we're looking for a school here, because we don't want to waste time stuck in traffic jams. We want the school to operate later than just until 4 p.m., because we both work," Michał Skalimowski's parents tell us.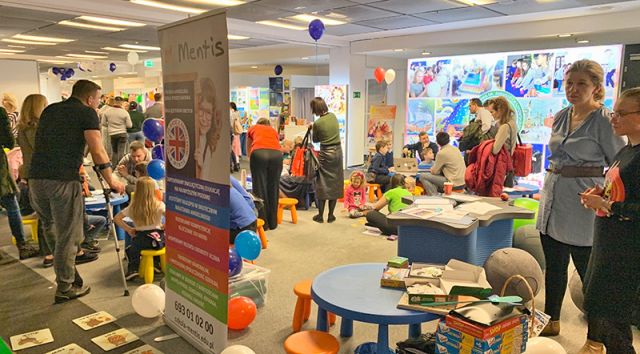 "The public school my daughters attend has terrible Grade 8 test results, hence our idea to transfer them to a school that will take better care of the kids' intellectual and sports development. Currently, one of our daughters is in Grade 4 and the other is in Grade 6, but we intend to transfer them now because every year counts. We want this new school to focus on learning, developing interests, and not only ensuring that the child is promoted to the next grade.
It doesn't have to be a bilingual school, but we want our kids to learn foreign languages—English, German, or Spanish. We want them to have a better start in their adult life and not be not limited by only knowing English.
Extracurriculars? Absolutely: language for sure, certainly art and sports, including swimming for spine health. Also, doing homework at school. I would like the school to be able to discover our daughters' talents and guide them. Tuition? I am able to give up many things, for example, I'm ready to choose a cheaper vacation to provide my daughters with a better education," says one of the mothers visiting the Expo.
"There are actually two reasons why I'm here—the first is that private schools provide children with a wider range of activities, the second is that education there is individualized. When you put a child into a state school, no one asks what the child is interested in. There is emphasis on a few subjects. My son is already in Grade 8 and we have to make up our minds. He got half his education in a private school, and now he's studying in a public school. The private school he attended was focused on success, which wasn't good for him. It was like a "factory of geniuses" where the child was in the background. And that had a bad effect on him—he was stressed out and he didn't like going to school. Children don't need to experience what, as adults, they will have to go through when working in a corporation. This is why we decided to transfer our son to a public school. Here, however, it's like night and day and the school does not pay any attention to the child. Therefore, now I am looking for a private school that would be child-friendly and pay ample attention to him and his development. The amount of tuition fees is important to me, but I can afford to pay for my son's education up to a certain level," says Marcin Dawidok.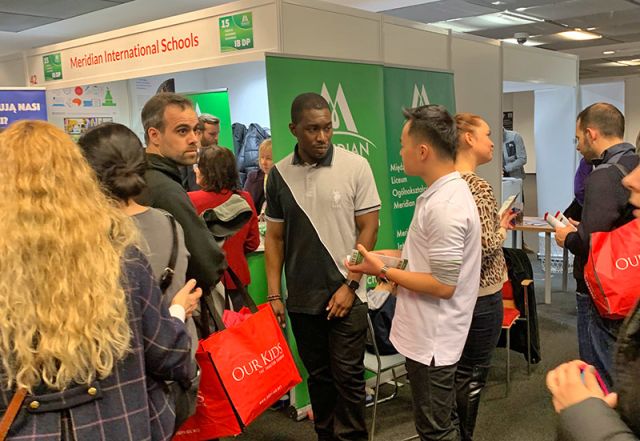 "We have two high school students—a daughter and a son, who are currently studying in the United States. They are coming back in June, so we are looking for a school for them that will allow them to continue their studies. My son is attending a hi-tech school, so we are looking for a school that would allow him to develop these interests. In the school system today no one can guarantee that when our kids return they will be accepted into the second year of high school. The school board tells us that it's up to the principal, and the principal, with whom we have already talked, says that he will first admit them to the first grade, and after completing the program, possibly to the second grade. Our children have finished junior high school. So that's a problem. We have to solve this problem ourselves.
Foreign languages are an important factor for us. First of all, because the children will come back from the US with perfect English, we would like them to continue, but also to learn another language. Secondly, we are considering the international high school diploma. The time spent at school does not matter to us—our children have a lot of their own passions, are talented in sports, and can organize their own time. The issue of commuting does not matter to us as long as the school is in Warsaw," say Kinga and Darek Dzwonik.
"My daughter is interested in the IB programme, but not all secondary schools offer it," says Rozalia's mother. "We have already been to the British and American schools to find out what programs they have. For now, we're just looking around," Rozalia explains.
"We are looking for a high school that will enable an easy start for study abroad because we hope that our son will study in another country. Some of the schools exhibiting here offer foreign curricula that wonderfully prepare kids for further studies in the West. This is a very interesting idea. And since our daughter is already studying in Canada, we know what our son will need and what he will miss if he stays at a Polish university. We want him to be well prepared and not experience culture shock, like our daughter, who graduated from a public high school. A Polish-Canadian school would be the best, but we haven't found one yet because most are primary schools. Also, our son has quite diverse interests—he wants to explore mathematics and history, so it will not be easy," say parents who want to remain anonymous.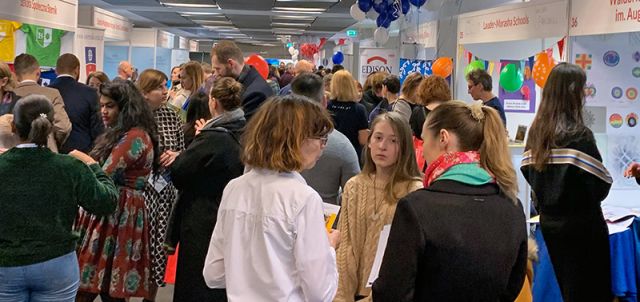 "We attended all three seminars—it was great and we learned a lot of things that we had had no idea about. The idea to add such presentations to the Expo is extremely valuable. They gave us food for thought and we see differently what we have to pay attention to when looking for a school for our daughter. We were impressed by the presentations of the experts (who are not school employees, so they didn't try to sell anything) at the third, most interesting seminar," says mother of 12-year-old Oliwia.
"Great event: We got some ideas for schools (we want to visit two) and extracurricular activities for our twins. Now we regret that we did not take them with us, because there were so many attractions for children. Excellent school stands—you could learn a lot about each school. We talked with students, and we could almost feel the atmosphere in the schools that interested us. What a wealth of offers. Great Expo, we will definitely recommend it to all our friends. They have children at an age when some serious decisions will soon need to be made," say the parents of twins Antoś and Jagoda, 13-year-olds.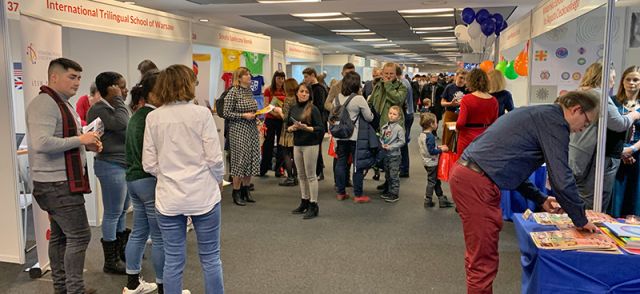 Opinions of schools and experts
We also talked to our exhibitors and received their observations and ratings in our evaluation survey. It's nice to hear so many positive, often enthusiastic opinions. We will take their comments and suggestions for the future into account when we prepare for next year's Expo.
For private schools and other exhibitors, Our Kids Expo was an opportunity for many valuable conversations with families, participating in seminars, and making inspiring contacts with other schools, which allowed them to see what others were doing. The Our Kids Expo is the only fair in Poland focused exclusively on private schools, so everyone who comes is interested in private education.
Here is what a few of our exhibitors had to say (in Polish):
These are translations of those opinions:
"I think the Expo is a very good idea. It gives you an idea of ​​what other schools do, what their offers are, and allows us to look at our programs more broadly and compare ourselves with other schools, and see what advantages we have and what we can still work on. It is always a great benefit for schools to compare with others and see yourself against others. I think there were a lot of people who came to talk to us. Their questions were precise, which indicated that the parents were indeed interested and serious."
"What made a big impression on me were the parents. Everyone was sincerely involved. And the number of parents and children. We have both an elementary school and a high school. The number of exhibitors was just right, so as not to get tired, and on the other hand, the number of visitors was very large."
"There were a lot of interested parents. Overall, a very nice experience because we also had the opportunity to exchange experiences with other schools and preschools."
And some more written reviews:
"It was fantastic. There were many more parents than we thought would come. We had a lot of Polish parents and we had a lot of international parents. It was a really nice event. Nice place. Well organized and a huge success!"
Tom McGrath, British Primary School of Wilanów
"We think it was a very good experience. We had people come up surprised who said: "oh, there is a school with French." So it's worth being here."
La Fontaine School
"I think it is a very interesting initiative, first of all, because only private schools attended, and this is probably the only event of this type when it comes to Warsaw. I was expecting fewer families but I am definitely positively surprised. I am very happy that we came here."
Waldorf Primary School No. 71 and Community Waldorf Secondary School No. 1
"Definitely, it was worth it. If we can bring over one or two people, that would be perfect. We're not here for volume but for quality."
St. Stephen's School, Rome
"The Private School Expo is a very nice initiative. We had a lot of interest after the fair. They gave us a chance to reach people who are interested in private schools. Some visitors at the fair admitted they simply had not heard of us before."
Polish-English Primary School Edison
"It's a very interesting experience for us. We will certainly be happy to participate next year because it is a chance for direct meetings. Our website doesn't do that. A live meeting of the school principal with families gives us a completely different perspective. A very fun and useful way to collect information about schools. It is also a fun learning experience for kids and high school students. The interest was non-stop, all day long."
Lauder-Morasha School
"We consider the fairs you organize to be very successful. We are very happy because you broke the monopoly of "Perspektywy," with their narrative about rankings as the only correct index of the quality of schools. We declare participation in the fair and cooperation (with Our Kids) in the coming years."
Hanna Piskorska, Monnet International School
"The fair is a very good initiative—we had a lot of interest after the Expo. The whole Our Kids project is a great idea and has a chance to reach people who are interested in private schools. In addition, Our Kids is a great support for our school marketing."
Agnieszka Olszewska, founder and director of the Edison Polish-English Primary School
And here's the opinion of a panelist from seminar # 3:
"Thank you for inviting me to the Expo! I am very impressed with such amazing attendance—both on the part of schools and parents! It's not such an easy task in Poland. In October, I attended the British University Fair organized by the British Council. There were very few people.

I spoke to the owner of BWS (Bilingual Warsaw School), whom I encouraged to join the Expo at the last minute. She called me after the event to thank me and say how pleased she was.
Congratulations again! It is a much needed initiative in Poland."
Jolanta Kulik
Young Talent Management, Strategic Educational Consulting | Studies and secondary schools abroad
Oxford Master Class