---
On this page:
---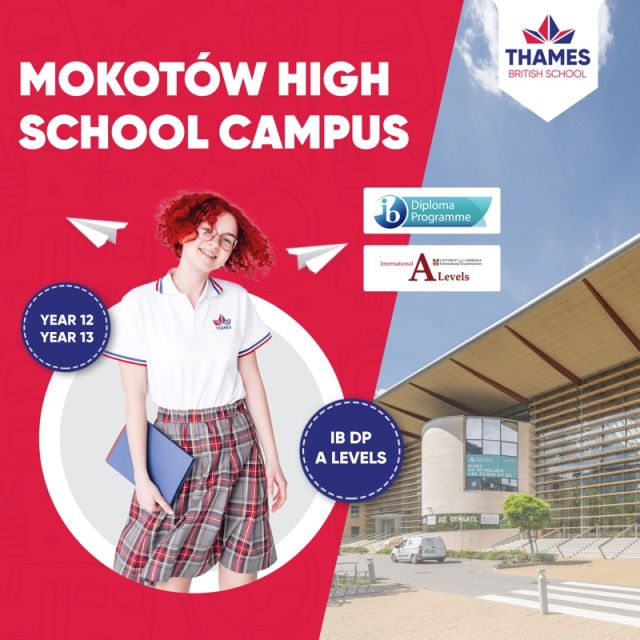 Thames British School has so far operated on five well-equipped campuses in and around Warsaw: two in Ochota, one in Włochy, one in Mokotów, and one near Piaseczno.
The new Mokotow High School Campus
The latest stage in the Thames British School's growth is the launch of its Mokotow High School Campus, a new campus in the district of Mokotów, where the school is now opening its new high school.
The state-of-the-art high school will offer high-quality education for Years 12 to 13 students, i.e., kids aged 17 to 19.
High school students in Grades 12 to 13 will have a choice between two paths, either the British programme or the IB Diploma Programme. This means the school will prepare them for the Cambridge International A-Level exams or the IBDP (International Baccalaureate Diploma Programme). These qualifications open the door for graduates to attend the best universities in the country and abroad, and they also provide solid preparation for studies at the world's top universities.
Mokotow High School Campus on 50 Domaniewska Street, located in the district of Mokotów, close to the city centre, will provide students with a well-equipped building with spacious classrooms and a large area around the school building, away from the main street.
A new high school in Mokotów, Mokotow High School Campus, opens in September 2023. During the summer holiday season, you will be able to visit it and learn all about its uniqueness, as well as the facilities the school offers.