---
On this page:
---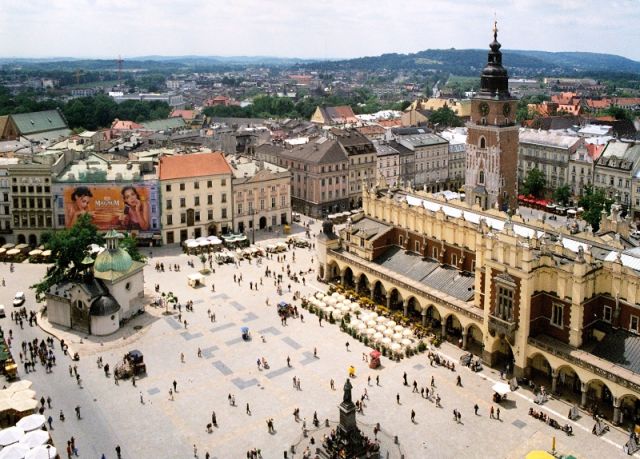 There are private and non-public schools in lots of different areas and districts of Krakow. This includes Stare Miasto, Grzegórzki, Prądnik Czerwony ("Red Prądnik"), Prądnik Biały ("White Prądnik"), Krowodrza, Bronowice, Zwierzyniec, Dębniki, Łagiewniki–Borek Fałęcki, Swoszowice, Podgórze Duchackie, Bieżanów-Prokocim, Podgórze, Czyżyny, Wzgórza Krzesławickie ("Krzesławice Heights"), and Nowa Huta.
Types of Kraków schools
Kraków is, next to Warsaw, one of the two cities where most Polish non-public schools (mainly private schools) operate, most of which operate in large cities. These are private primary and private secondary schools, and often include kindergartens and high schools. Some of them are international schools offering teaching in English, making them attractive to foreign students.
Private schools, as well as nurseries and preschools, are found throughout Kraków. They're in many districts, such as the Old Town, Grzegórzki, Prądnik Czerwony, Krowodrza, Bronowice, Zwierzyniec, Dębniki, Łagiewniki-Borek Fałęcki, Swoszowice, Podgórze Duchackie, Bieżanów-Prokocim, Podgórze, Czyżyny, Wzgórza Krzesławickie ("Krzesławice") and Nowa Huta.
Remember that with the recent educational reform in Poland, middle schools were eliminated in 2019, which led to a double cohort of graduates applying to high schools. Some middle schools were transformed into new primary schools, some into new high schools, some incorporated into pre-existing primary schools, and others incorporated into secondary schools.
Non-public schools in Kraków
Non-public schools in Kraków have the highest quality education. Some of them offer only one stage of education, e.g., elementary or high school, while others provide education from kindergarten (and even preschool) to high school final exams. Many parents enjoy the latter option, because children are educated in an institution that has a uniform, coherent vision of education through all stages of learning. Others, in turn, prefer their children learn about different systems and have a broader educational experience, derived from different schools.
Some private schools in Kraków are establishments with a long tradition dating back to the introduction of private education in the 1990s. Many of these schools started from elementary school or high school (or sometimes kindergarten), and then, seeing the demand, and often at the request of their students' parents, expanded their programs to the next stages of education. Many currently lead their students through kindergarten, primary, and secondary school, right up to the high school final exams.
In many non-public schools in Kraków, especially in international schools, recruitment is carried out throughout the year, as families with children come from abroad at different times during the school year.
Kraków is a university city, so many of the leading high schools in Kraków cooperate with universities, including from the world-famous Jagiellonian University. These schools offer excellent and unique programs and development opportunities for their students.
What to look and ask for
When you decide to send your child to a private school in Kraków, here are some key factors to consider:
Core curriculum: The core curriculum is the main curriculum used at a given school. Some schools teach according to the Polish program of the Ministry of National Education, but even here it's possible that teaching is offered in a foreign language (often English). However, there are schools that implement a foreign core curriculum, e.g., the English National Curriculum, and some offer both an English and Polish curriculum. One of Kraków's schools has a music program, thanks to cooperation with the first and second degree State Music School.
International schools: There are many such schools in Kraków, although not all are created equal. There are only three international schools, with native speakers, and where non-Polish core curricula are used. Some schools offer the IB program, but only in the last two grades. In most international schools, the language of instruction (or main language of instruction) is English. Some schools offer German or French as a language of instruction. International schools also offer courses in other languages, such as Spanish and Italian.
IB schools: Some private schools in Kraków offer education based on the International Baccalaureate (IB) program, often at all levels of education. But there are schools that offer this program only in the last grades (the IBDP - International Baccalaureate Diploma Program). The IB program is particularly popular in high school.
Montessori kindergartens and schools: There are several schools in Kraków that teach in accordance with the philosophy of Dr. Maria Montessori. Many of these schools are accredited by the Association Montessori Internationale (AMI), Polish Montessori Council, or Polish Montessori Association.
Special education: There are also schools that teach children with special educational needs. Some of them are exclusive devoted to kids with special needs, while others offer integrated classes. Among others, there are private schools that support students with ADD and ADHD, developmental disabilities (e.g., autism and Asperger's), and physical disabilities (e.g,. multiple sclerosis).
Benefits and advantages of non-public schools in Kraków
Here is what you can expect from non-public schools in Kraków:
High level of education: Kraków non-public schools are known for their high academic standards. Many schools implement world-renowned programs and courses, such as Advanced Placement (AP) and International Baccalaureate (IB), receiving authorization from such organizations as International Baccalaureate, The Council of International Schools in Europe, the New England Association of Schools and Colleges, and the Council of International British Schools. This ensures the highest educational standards are met.
International Baccalaureate: some private high schools in Kraków offer education which culminates in an International Baccalaureate (IB) or where study ends with IGCSE (International General Certificate of Secondary Education) exams. These schools boast very good results for students at the secondary school-leaving examination, and a very high percentage of their graduates move on to the best universities, very often abroad. In some schools, students have the choice of an international or Polish high school diploma.
Language skills: learning foreign languages ​​in non-public Kraków schools is a priority. In many of them, a foreign language, mainly English, is the language of instruction. Some schools have classes with an extended English-language learning program and bilingual departments where some subjects are taught in English. Schools frequently offer, in addition to English, learning a second foreign language, e.g., French, German, Spanish, or even Chinese. Some schools also offer intensive ESL, which is important for students from outside English-speaking countries. Children from abroad are often given the option to study English.
International students: many private schools teach children from around the world, sometimes even from over 30 countries. They're often children from families who come to Poland for work contracts, and sometimes from mixed marriages, when one of the parents is Polish and the family settles in Poland. Attending an international school gives the child a unique opportunity to stay and interact with peers of different nationalities, religions, and cultures, which is an enriching experience and will definitely teach them tolerance, respect for others, and strengthen their communication and social skills.
Extracurricular activities: Kraków private schools offer a wide range of extracurricular activities. These include language courses, philosophy classes, theatre, film, dance, sports, and philharmonic and museum field trips.
Additional support: psychologists and/or speech therapists who are employed full-time are provided in many schools, so they're constantly present and available to students and teachers. In addition, private schools offer support for children who require extra academic assistance, such as tutoring or individual lessons.
Science in Kraków: Kraków is one of the most beautiful Polish cities with a centuries-old history. It's one of the largest cultural and scientific centers in Europe —in 1364, the first university in Poland and one of the first in the world was founded, which since the 19th century has been called the Jagiellonian University. Schools in Kraków use this cultural wealth, and in their extracurricular activities offer many options for special outings to theaters, galleries, cultural events, as well as city tours and learning about the fascinating history and priceless monuments of Kraków. The city is filled with foreigners and well connected with other regions of Poland and European countries, which can trigger, in foreign and local students, the desire to explore a new country.

Traveling abroad: many private schools cooperate with schools from other European countries, such as Great Britain, France, Spain, Italy, and Germany. This cooperation can involve exchange programs and student trips that can be a rewarding experience.