---
On this page:
---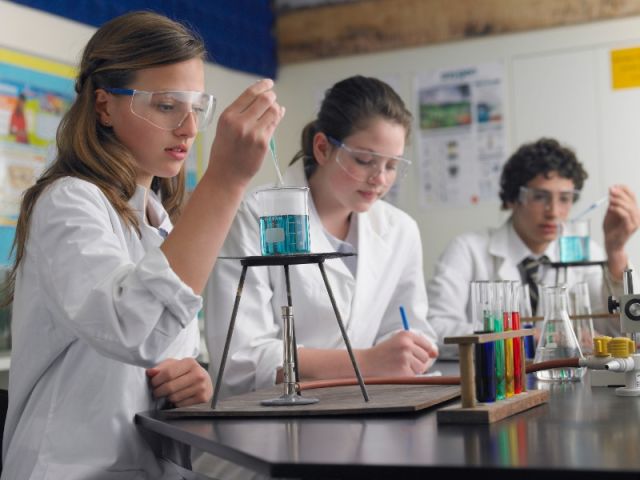 Facts about high school education in Poland
High schools in Poland are sometimes called "secondary schools" or "upper secondary schools." Whether public or non-public, these schools tend to follow similar guidelines regarding age range, curriculum, and more.
Age range
High school, or general secondary school (as it's sometimes called), is optional in Poland. Elementary school (primary school) marks the end of compulsory schooling.
Yet many Polish and foreign students attend a Poland high school. These schools are for students aged 16 to 20. This is roughly equivalent to grades 10 to 12 and the first 2 years of university or college in North America.
Skills learned
Different Poland high schools have different learning goals. Most, though, aim for your child to acquire the following key skills.
Communication: speaking clearly, one-on-one and in front of an audience
Ethics: understanding ethics and acting on them
Leadership: improving teamwork and decision-making
Research skills: using and understanding different methods of research (e.g., online, library, etc.)
World issues: understanding modern world issues, including those related to technology
Arts and culture: learning to appreciate the arts (visual and performing) and culture
Curriculum
The most common kind of high school in Poland is a general secondary school. There are also, though, specialized, technical, and basic vocational secondary schools.
According to Alberta's Poland International Education Guide, general secondary school (liceum) is a three-year program. It prepares students for higher education (university or college) or to enter the workforce. It doesn't, though, provide students with any professional qualifications.
The core curriculum for general secondary school is organized by subjects. According to the Poland International Education guide, this curriculum is mandatory, though instructors can supplement it in various ways.
High school (or general secondary school) subjects (based on Alberta's Poland International Education Guide)
| Subjects | Cumulative hours per week in three years |
| --- | --- |
| Polish language | 14 |
| Foreign language (two) | 15 |
| History | 5 |
| Social studies | 2 |
| Cultural studies | 1 |
| Math | 9 |
| Physics and astronomy | 3 |
| Chemistry | 3 |
| Biology | 3 |
| Geography | 3 |
| Introduction to business | 2 |
| Information technology | 2 |
| Physical education | 9 |
| Defense training | 2 |
| Religion and ethics | 6 |
| Lessons with homeroom teacher | 3 |
| Hours at the Principal's discretion | 4 |
| Advanced level subjects | 10 |
| Total | 96 |
Types of private high schools
There are lots of different kinds of private and non-public high schools in Poland. These schools can differ in terms of structure, focus, specialization, teaching philosophy, and more. Most of these schools are a good option for international students from Canada, the US, Britain, France, Germany, and elsewhere. They're also a nice fit for Polish residents.
International schools: There are many international high schools throughout Poland. Most of these are private or non-public. For instance, in Warsaw alone, there are British, American, Canadian, French, and Japanese private and non-public international schools. Many of these schools offer both day and boarding programs.
Language schools: Many private high schools in Poland, including in Warsaw, offer language programs. Some, especially international schools, offer English-language instruction and bilingual, English-Polish instruction. Many high schools also offer the opportunity to learn one or more foreign languages, through intensive courses.
Boarding schools: Boarding school is a popular option for high school students across the world. Poland boarding schools, while sometimes pricey, offer high-level academics and international programs. They can also be a great way for your child to broaden their horizons through exposure to a diverse student body.
Day schools: In private day schools, students normally live at home and travel to and from school each day. Otherwise, private schools come in all shapes and sizes. Many day schools in Poland offer a boarding program. In these schools, there's a nice mix of local and foreign students.
IB schools: Many Poland schools offer the International Baccalaureate (IB) program. In high school, it's common to offer the IB diploma program. This is a prestigious, high-level academic program with an international curriculum recognized around the world.
Special needs schools: Special needs schools provide support for students with one or more learning, developmental, or physical disability. Some schools have full-time special needs support, while others offer part-time support (for instance, through a special education class or in-class accommodations).
Gifted programs: Some private schools in Poland provide special programs for gifted learners (who are well above average in terms of learning abilities). These schools often provide enrichment and/or acceleration in one or more subjects. This can be achieved through independent studies, group projects, mentorship programs, and in other ways.
Social schools: These schools are created by social organizations and associations in Poland. They have lots of parent involvement and focus a great deal on the development of social skills. They also tend to have small class sizes and plenty of extracurricular activities.
Benefits of private high schools
Needless to say, private education can be very effective. This applies to high school, as much as it does to middle, elementary, or preschool. That's why increasing numbers of parents are choosing to send their children to a private school, in Poland or elsewhere.
Moreover, private and non-public high schools in Poland are well worth the investment. They have several widely-acknowledged benefits.
High-level academics: Private high schools in Poland provide exceptional and challenging educational opportunities. They offer a rigorous curriculum, demanding courses, and lots of opportunities for enrichment.
Great teachers: Private Poland high schools are known for having high-quality instruction. Teachers tend to be very qualified, skilled, and dedicated. This can make all the difference in the world: it can help your child reach their full potential and spark their curiosity and a love of learning.
Individualized learning: Many private and non-public high schools in Poland offer individualized learning. In fact, this is one of the main advantages of private school: smaller class sizes allow teachers to tailor their approach and the curriculum to meet the learning needs of each student.
Resources: Most private high schools have great resources to support student learning in the classroom, such as computers, interactive whiteboards, and art materials. Many also have lots of extracurricular activities, including clubs, sports teams, and after-school programs.
Small classes: Many private high schools have small class sizes and low student-to-teacher ratios. This makes for a warm, nurturing, and engaging environment. It can also lead to more interaction between and participation from students.
Parental involvement: Private and non-public schools, especially social schools, are built around open communication between parents and the school. They make it a priority to involve parents in the community, through parent-teacher meetings, fundraising initiatives, and more. This can help to strengthen the community as well as parent-child relationships.
Community feel: Private schools often have a motivating and supportive environment. This stems from the close-knit community of students, parents, teachers, and administrators. The strong support system of private schools helps too. This can include academic and personal counselling, peer tutoring programs, community events, and charitable initiatives.