---
On this page:
---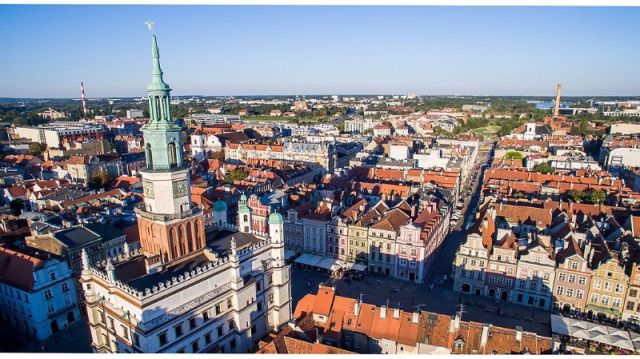 Some of these schools follow the American national curriculum. Others follow a British school curriculum.
Types of Poznań schools
There are several different types of private and non-public schools in Poznań, Poland. Many of these international schools geared toward students from other countries, including Canada, the US, Britain, France, and elsewhere. Most also admit students from Poznań. And some admit students from other parts of Poland, such as Warsaw, Kraków, Wrocław, and Rzeszów.
IB schools: Many private schools in Poznań, Poland offer the International Baccalaureate (IB) program. The IB program is offered by many middle (or junior high) and high schools in Poznań. Some Poznań elementary (or primary) schools also offer the IB Primary Years Program (PYP).
Montessori schools: Poznań has many Montessori schools. These schools follow the main precepts of the Montessori philosophy of education. This includes self-directed learning, child-to-child teaching, concrete learning, and collaborative and group work.
Special needs schools: There are lots of special needs schools in Poznań. Some of these schools provide programs focused only on special needs kids. Others offer support for kids with special needs in a regular class.
Social schools: Poznań has plenty of so-called "social schools." These are non-public, non-profit schools founded by social organizations such as the Social Education Association (STO) in Poland. These schools often have small class sizes, lots of parent involvement, and focus on the development of social skills and competencies.
Benefits of private schools in Poznań
Private schools in Poznań, Poland have plenty of benefits. While this isn't an exhaustive list, they include the following:
High-level academics: Poznań private schools are well-known for intensive instruction, delivered by dedicated teachers. Many also offer challenging and enrichment programs such as Advanced Placement (AP) and International Baccalaureate (IB).
Language learning: Most private school in Poznań offer English-language instruction. Some also offer bilingual, English-Polish instruction. And many offer courses in foreign languages such as French, German, Italian, and Chinese.
Broadening horizons: Many schools in Poznań, especially international ones, have students from lots of different countries across the world. Learning and interacting with students from such a wide range of backgrounds can be a great way for your child to broaden their horizons.
Living in Poznań: Living and going to school in Poznań can be a great experience for your child. If your child is an international student, they'll be exposed to a new country, culture, and local population. They'll meet new people, go to new places, and have new experiences. This can be an incredible learning experience.