---
On this page:
---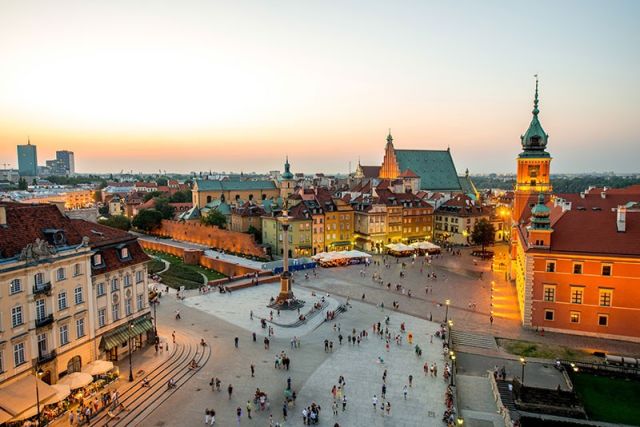 Private school expo: To learn more, visit our private school expo in Warsaw. Here you can meet with some of the top private schools in Warsaw, and all across Poland, all in the same place. The expo also has informative seminars about private/non-public education in Poland, including the issue of how to choose a school.
Find schools in Warsaw:
While private school education in Poland only began in the 1980s, it's becoming a popular option for many families. There are now great private schools in all major Polish cities, including Warsaw.
There are currently private and non-public schools in many areas of Warsaw. This includes schools on the east bank of the River Vistula, such as Bialoleka, Praga Poludnie, Praga Poinoc, Targowek, Rembertow, Wawer, and Wesola. It also includes schools on the west bank of River Vistula, such as Srodmiescie (City Centre), Mokotow, Zoliborz, Wola, Ochota, Bielany, Bemowo, Ursus, Wlochy, Ursynow, and Wilanow.
Some of the schools follow the British or English national curriculum. Others follow an American curriculum.

Types of Warsaw schools
Warsaw has many different kinds of private schools. Many of these are geared to foreign or international students. Some, though, are a good fit for domestic students.
International schools: Warsaw has plenty of private and non-public schools for international or foreign students. Most use English as the main language of instruction, though some offer bilingual, English-Polish instruction. Many of these schools have a world-class reputation.
Language schools: Many private schools in Warsaw offer specialized language instruction and programs. International schools, in particular, offer courses in French, Italian, Spanish, German, and other languages. This is in addition to the main language of instruction, which is normally English or English and Polish (in international schools).
IB schools: The International Baccalaureate program is offered throughout Poland, including in in Warsaw. Many private secondary schools in Warsaw offer the IB program. In high school (or upper secondary education), IB students graduate with the prestigious IB diploma (IBDP).
Montessori schools: There are Montessori schools (and preschools) in Warsaw and throughout Poland. These schools follow the student-centred teaching philosophy of Maria Montessori. They tend to focus on self-directed learning, individualized curricula, concrete learning, child-to-child teaching, and more. Many of these schools are accredited by a Montessori certifying body, such as the Polish Montessori Institute or the Association Montessori Internationale (AMI).
Benefits of Warsaw private schools
Private schools in Warsaw have lots of great features. They can be a terrific option for international and foreign students, not to mention domestic students from Warsaw (and other parts of Poland).
High-level academics and enrichment: Warsaw private schools are known for rigorous and high-level instruction. They offer a wide range of subjects, from math, science, and arts, to civics, culture, and history. They also offer plenty of opportunities for enrichment through tailored instruction, and high-level programs such as the International Baccalaureate (IB) and Advanced Placement (AP) courses.
English language instruction: Private schools in Warsaw are a great fit for international students. This includes students from Canada, the US, Europe, and across the globe. Since most of these schools have English as their main language of instruction, they can be ideal for North American students who want to study abroad but don't speak a foreign language (but may want to learn one).
Diverse student body: One perk of going to school overseas is the chance to be a part of a diverse student body. This is especially true of international Warsaw schools. In one of these schools, your child will learn (and perhaps lodge) with peers with a wide range of backgrounds.
Affordability: Private schools in Warsaw vary in price. Tuition can be anywhere from $10, 000 to $60, 000 a year (this may or may not include room and board). Moreover, living in Warsaw, like the rest of Poland, is relatively cheap. The price of food, rent, and entertainment is quite reasonable compared to other parts of Europe, as well as North America.
Living in Warsaw: Living and going to school in Warsaw can be a great experience for your child. If your child is Canadian or American, they'll be exposed to a new country, culture, and local population. They'll meet new people, go to new places, and have new experiences. And they'll also have the chance to travel across Europe and overseas. This can broaden their horizons and create memories that last a lifetime.
Ample resources: Warsaw private schools normally have lots of resources to support student learning in the classroom, sports field, art studio, elsewhere. Quality resources and extracurriculars give students the chance to fully explore their interests and talents.
Small classes: Many private schools in Warsaw, and across Poland, have smaller class sizes. This can offer students several advantages, including individualized attention, a tailored curriculum, an interactive learning environment, and a closer relationship with teachers and peers.