---
On this page:
---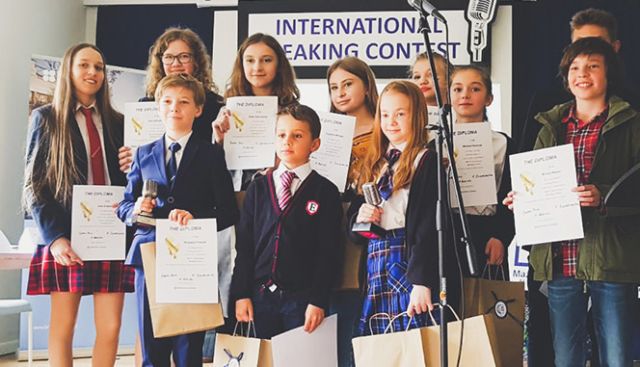 A very important role in this school is played by the latest technology.
Our Kids spoke with Agnieszka Olszewska, the founder and principal of Edison, an educator, special needs advocate, early childhood education teacher, and child therapist. She's also a dance instructor who teaches dancing in her school.
School history and plans for the future
Our Kids: How did you come up with the idea to create the school?
Agnieszka Olszewska: First I setup Magic Fish preschool, which was partly for my child because at that time, in 2009, when I was opening the preschool, my first son was born. After two years, I already had a waiting list. Our preschool is very popular in Warsaw and it's difficult to get a spot there. It's an arts and music school, focused on the development through art.
We believe that artistic and creative expression of oneself is a very important element in holistic development. This is especially true in the early years, when it has a great influence on the development of other competencies, e.g., mathematical or linguistic. It exercises memory and logical thinking.
I created our elementary school after four years of running the preschool. The parents of the kids who graduated from our preschool pushed me to create a primary school. They kept saying that their children don't have any further avenues to be educated in the same way. Our children speak, read, and write in two languages. So what are they to do next? That was true. I myself could see that the children who continued education in public schools often lost a lot of what they learned in our preschool: high self-esteem and fluency in English. I listened to the parents, and in 2012 the primary school was born.
Our Kids: So what will happen to the children who finish your elementary school?
Agnieszka Olszewska: This is the question I often hear from their parents, and this is why we have already taken steps to start construction of a new building. There is no way we'll find enough room here. Next year we may still be okay but in the years ahead we definitely won't. This school building will provide space for 350 students and then we will open our high school. For the time being, our school is not large—we have about 220 students.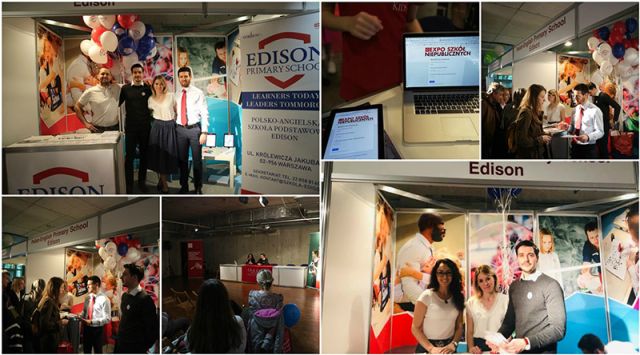 Two languages and teaching methods
Our Kids: Let's talk about your bilingual instruction—what does it mean and how does it work in practice?
Agnieszka Olszewska: It means that we implement two curricula—the Polish curriculum and the British curriculum, both in their entirety. In Grades 1 to 3, the language of instruction is Polish for some subjects. Subjects such as arts, music, physical education, and IT are taught in English, because in these subjects the Polish and British curricula are very similar. As far as other subjects are concerned—for example, math, English, science, and social science—they are taught in English. We have more subjects in English than in Polish.
Our Kids: Aren't your students overworked?
Agnieszka Olszewska: Our school provides complex care—our after-school club is open until 6 PM, and we have a program that makes this time useful and interesting. Our children can also participate in a number of extracurricular activities and various clubs which develop their passions. But of course we realize the children have to learn two curricula, and thus need to work much harder than their peers in traditional schools. This is why we use different methods of teaching than those of public schools.
Our Kids: What are the main differences between your school and public schools?
Agnieszka Olszewska: We make extensive use of new technology and methods of teaching that engage students. The most important thing is for students to be actively involved in the educational process. This means the students don't get ready-made solutions—we formulate theses and hypotheses, and the students themselves must arrive at the right solutions. It also means that the knowledge they gain is deeper—it's not just memorized and quickly forgotten. Our students also acquire a lot of practical knowledge—for instance, they have to learn to make certain things.
Our Kids: Does this apply also to the Polish curriculum? Doesn't the Ministry of Education impose what is taught?
Agnieszka Olszewska: Yes, they specify the content, but not what the teaching methods should be. Our methods help us make sure children aren't overburdened. We teach through observation, experiments, simulations, lively history lessons, workshops, trips, debates, meetings with interesting people, projects, and lessons conducted by the students (who need to prepare them). But most of all, our great aid is new technology.
New technology
Our Kids: What role does new technology play in your school and teaching?
Agnieszka Olszewska: We always repeat that new technology will never replace human beings or reading and writing, but the truth is that we as a school prepare our students for future life, and in 20 years these kids will become adults who will make decisions about our country and about the world. If the school is to prepare a child for the future, we can't ignore new technology, because technological development is everywhere around us.
Of course, children use technology at home, but mostly for entertainment. If each of our children has his or her own iPad and takes it home, this can be a learning tool for them: when they're not at school, they can participate in classes. Remember that nowadays knowledge is everywhere at our fingertips, so the teacher isn't an authority just because she knows something, because the student can find online everything the teacher knows. The teacher must be present in the world of that student, understand that world, know its problems, including technology.
Technology also brings various dangers and risks, and we talk about this very openly with our students, so they can understand its downside. Being proactive in this respect makes our students safe. On the whole, I believe this is the right direction—if we don't do this, our school will remain in the 20thcentury, while we are facing the most dynamic 21stcentury. Students will not love a school that doesn't meet their expectations and doesn't give them a chance to develop. We need to develop in the same way the world develops.
At our school we often have visitors from other countries. We have had guests from Brazil, Norway, Kazakhstan, and Israel. Last year we had the teachers first and then students from the US. We showed them how we work with new technology and how we use them wisely. On our website you can also find the opinions of these visitors about our work. Our guests liked what they saw, how we use technology and combine it with teaching.
Our Kids: What about your uniforms?
Agnieszka Olszewska: Well, our uniforms are a signature feature of our school. Our students don't have any problem with them, although Grade 9 this year has come up with a petition to have two uniform-free days. We were happy to agree, because it was their initiative. We understand they're almost adults. We often listen to the students who know that if they have an idea or want to change something, they have to take action. Nothing happens by itself—all changes need to be initiated. Students collect signatures and we want them to know that we listen to their voices.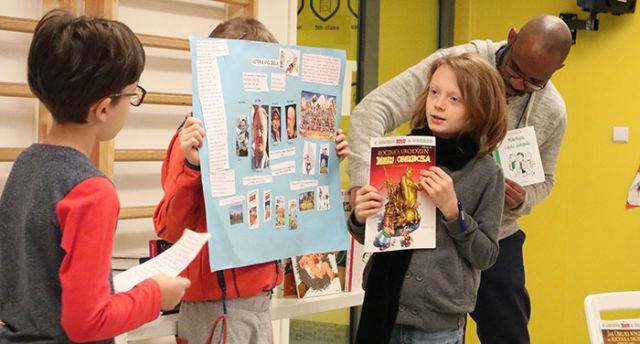 Teachers and students
Our Kids: Who teaches at your school? Considering how important new technology is in your school, I suppose most of them are young people.
Agnieszka Olszewska: Yes, they are young people full of passion, who infuse the kids with this passion. They're educated at British universities and are very familiar with the British curriculum. These are the type of teachers we look for. The right choice of faculty is extremely important. I'm very happy with my teachers, but it took me a long time to gather this incredible group. Our teachers are of different nationalities—30% of them are native speakers of English.
Our Kids: And what about your students?
Agnieszka Olszewska: They're fantastic and unbelievable children, full of compassion and extremely involved in what's happening at school. We also employ a psychologist who the kids often consult if they have a problem. That helps a lot because we have to implement two curricula, and thus learning in our school requires a lot of involvement on the part of the students.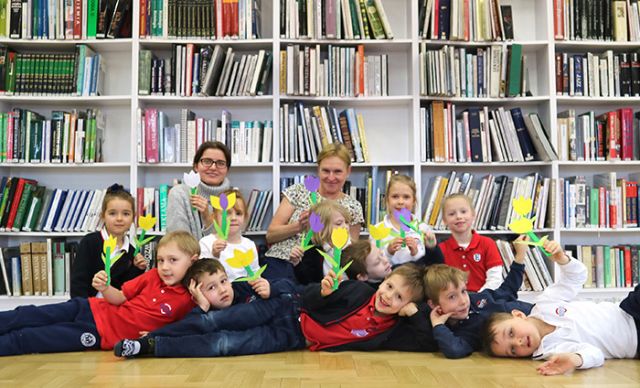 Difficulties
Our Kids: Do you encounter any difficulties?
Agnieszka Olszewska: The parents are very often busy and overworked, so they don't have enough time for their children. Of course, that's not true of everyone, but many of them. We pay a lot of attention to ensure the relationship between the school and parents is good. I firmly believe parents are the best specialists as far as bringing up their children is concerned, and that's why this collaboration is so important to us.
Private schools face a lot of problems because we use different teaching methods and our own in-house programs. The Polish national curriculum includes too much material, and since we are a private school functioning as a public school, we're obliged to implement this curriculum. It takes a lot of effort to cope trying at the same time not to give up what's most important and not destroy the children's curiosity. I firmly believe we need a lot of conversation and debate, so that people can talk about this openly and express their dissatisfaction. Maybe this will lead to change. What we need most is school autonomy, so the principal can make decisions about the curriculum. Of course, there must be a minimum imposed by the ministry but no more than a minimum.
We are a bilingual school implementing two curricula, but nobody in the school board is interested in the fact that children get such a valuable education. But we don't give up. Our students know they have more homework than before. In the past we could cope without any homework, but this year eighth graders asked us to let them come to school on Saturday. They have extremely extensive material to cover. Our school culture is such that studying is cool, children want to learn, and they came to school on Saturdays without complaining. But I'm very sorry the children have to pay for the wrong curriculum decisions.
Achievements
Our Kids: What are you most proud of? What is special about your school?
Agnieszka Olszewska: We have just had our big school concert. Three times a year we have such huge events, where the whole school participates. The kids sing, dance, play instruments—I must say that their skills are incredible. What's very important is how the children are involved in these concerts. Also, they aren't worried they will be judged or they may not do well. It's pure joy on their part. First, they perform in front of their friends in our internal talent shows where they get used to performing in public. If they feel comfortable on stage as children, they will also feel comfortable as adults in various situations with other people. It definitely takes a lot of work on our part but we are always trying to create a very supportive environment.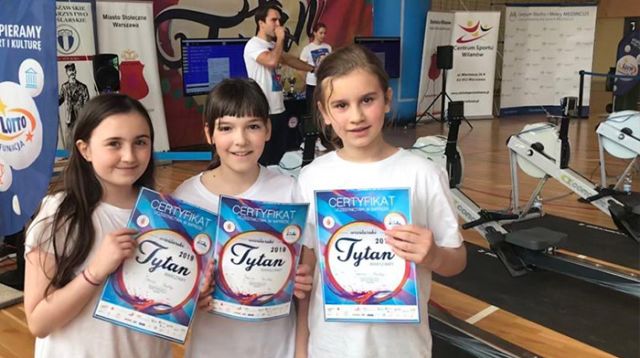 Another thing I'm very proud of is of course the fact that our children are so good academically, e.g., they receive awards at national competitions and contests. Our school is very high in the rankings. But for me a very important thing is the children are so active as volunteers, helping others. Our students are future decision-makers and education is supposed to give them everything, so they can perform this task well in the future. They need to learn how to care about others.
That's why we believe serving others through various charity campaigns is so important. They were initially organized by the school, but now they're initiated by the children themselves. This year there must have been about 15 such campaigns that our students started. They bake cakes at home, sell them, and whatever money they get, they support charity drives for those in need. For example, two campaigns raised money for a children's hospital in Warsaw. They even got invited to the event where they themselves could give the money to the representatives of the hospital. What's important is the children can see the problems of other people. They live in a slightly different reality, and don't have everyday contact with such problems like poverty and unemployment, so this experience is particularly important and educating. We make sure they carry the whole project through to the end—they're responsible for sending the money they raised, so they know where it goes and who they helped by donating it.