---
On this page:
---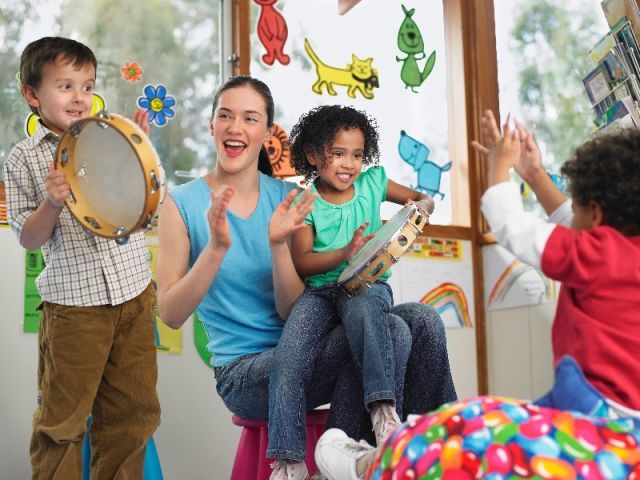 Benefits of a preschool education
Regardless of whether you choose a public or private preschool, this type of education has several advantages, including:
Your child will be socialized in a peer group, and learn social skills and interpersonal relations.
Your child will acquire a diverse range of knowledge, even the most beloved mother, grandmother, or devoted nanny won't be able to provide.
Your child will be in an inspiring and stimulating environment where there's no boredom, one which will have a significant impact on his comprehensive development.
You can work or rest during this time, knowing your child is well looked after.
Features of private preschools
Your first decision in selecting a preschool is whether to choose public or private?
The former are very often difficult to get into, are often restricted to children from their region (called "regionalization"), have larger classes and fewer educators, and normally offer less varied and unique programming. Of course, this isn't the same everywhere, but these are the most noticeable features of public preschools.
Private preschools are very different, but usually—because they charge tuition (keep in mind, though, that public preschools aren't free)—and are in competition with each other, they try to ensure the highest level of care and education.
So what can you expect in a private preschool, which might justify paying tuition?
Class size: usually classes don't exceed 10 to 15 children, which allows for much better care and a more individualized approach to each child.
Number of teachers/educators: usually at least two teachers are present all the time, which allows for strong supervision and interaction.
Staff qualifications: specialist classes are most often conducted by experts in their fields, and teachers usually require preschool teaching qualifications.
Additional staff: many private preschools employ a speech therapist and/or psychologist, which can be very important for children and their language and personality development, as well as help parents bring up children at home.
Interaction with teachers: in private preschools, the rule is that parents get daily "feedback" about their child, and parents' comments, suggestions, and requests are always heard and considered.
Parental involvement: private preschools often encourage close collaboration with parents if they want to be closely involved in their children's education.
Additional attractions and activities: private preschools usually provide a broader curriculum and have more resources than public ones. Pool, judo, skiing, foreign languages, dance, theatre, ballet, computers, trips, meetings—there are usually many such options, and they are included as part of tuition.
Foreign languages: almost all parents want their children to learn languages (mainly English), and private schools usually pay close attention to this, often employing native speakers. The scope of language education can be very different between preschools, from several hours a week to bilingual institutions.
Innovation: they often implement new and up-to-date teaching approaches.
Additional services: some preschools organize workshops for parents or transition days to make it easier for children to part from their parents.
Profiles: often, they have a specific profile, e.g., sports, language, arts-based, or environmental, which reflects the main focus and approach to education.
Alternative educational philosophies or proprietary programs: some private preschools implement programs based on well-known alternative pedagogical models, e.g., Montessori, Reggio Emilia, or Waldorf. There are also religious preschools, the most popular of which are Catholic preschools.
Opening hours: private preschools are open longer (at least until 6pm, and sometimes until 8pm), and parents don't pay extra for these longer hours.
Lateness: in public preschools, the door is often closed at 8.20am, while in private preschools, there's no such deadline.
Holidays: private preschools are open all year round, while public ones usually have at least a one-month holiday break.
Choosing a preschool
It's worth getting acquainted with these features of preschools, and comparing in terms of such criteria. Is it a profiled preschool? What is its educational philosophy. What are its staff and class sizes like? What educational approach does it use? Does it employ a speech-language therapist and psychologist?
It's also worth considering other criteria:
Tuition fees: how much does it cost and what does this cover? Are there additional charges? For what and how much? Are there any rebates or discounts?
Daily schedule: what does a child's day look like? How many classes are there? How much "fun time" is there? How much time do children spend outdoors?
Housing conditions: what is the space like? What are the bathrooms like? Where do children relax and eat?
Equipment: does it offer appropriate equipment, toys, teaching aids, educational materials, and so forth?
Time outside: where do children spend time outside? Is there a garden? Is it safe and enclosed?
Location: how far is the preschool? Is it easy to get to? How about during rush hour?
Discipline: how do staff deal with behaviour problems? What methods do they use?
Meals: what kind of food is provided? Where does it come from? Will children with special requirements will receive proper meals and snacks?
Support for children with special needs: if your child has special needs, will the preschool support them, and what will this support look like?
How to learn about preschools
Let's remember there are no ideal schools or preschools, but it is possible to find ones that will satisfy most of your expectations.
What's the best way to find this out? Websites and brochures can provide lots of information, but such materials mostly show off strengths.
It's always ideal to obtain objective information, and even better to be able to compare different preschools in terms of key criteria. Here, OurKids.net comes in handy.
It's also good to visit preschools that interest you, to see everything with your own eyes, ask teachers questions, get a feel for the class environment, and get a sense if it looks like a good fit.
Is it worth hearing what parents of children who went to the preschool have to say? Certainly, but keep in mind what may be an advantage for some (e.g., quite strict discipline) may for others be a disadvantage. Opinions depend on the expectations and values ​​parents have, and these can vary greatly.