---
On this page:
---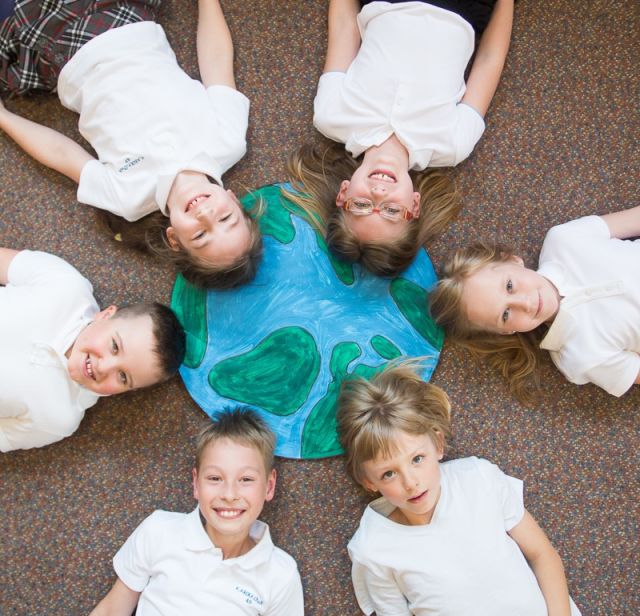 Małgorzata Guzy: Our story began in 1995 as a result of my passion and our family's needs. The concept of the first facility was born out of the need to find an inspiring place for our daughter, two and a half years old at that time. We wanted her to develop both in an ambitious educational setting and in a space that would shape her personality, develop her passions and talents, in a warm, creative, safe environment and atmosphere.

At that time, I was working in public kindergartens and primary schools as an English teacher. I loved working with children, and I was able to build very good relationships based on trust, both with children and adults. I received support from my husband and family, and our first facility was opened. The children fell in love with my kindergarten, and the parents trusted me.

We built a fantastic team. Parents started recommending my facility and enrolled their children in my kindergarten two years in advance. Then, after five years of its operation, after numerous inquiries from parents, together with my husband, who at that time worked as a financial advisor in one of the biggest banks, we decided to develop a professional network of educational institutions. We focused on educational coherence and continuity. From nursery through kindergarten to primary school. And we have been successfully implementing this vision to this day.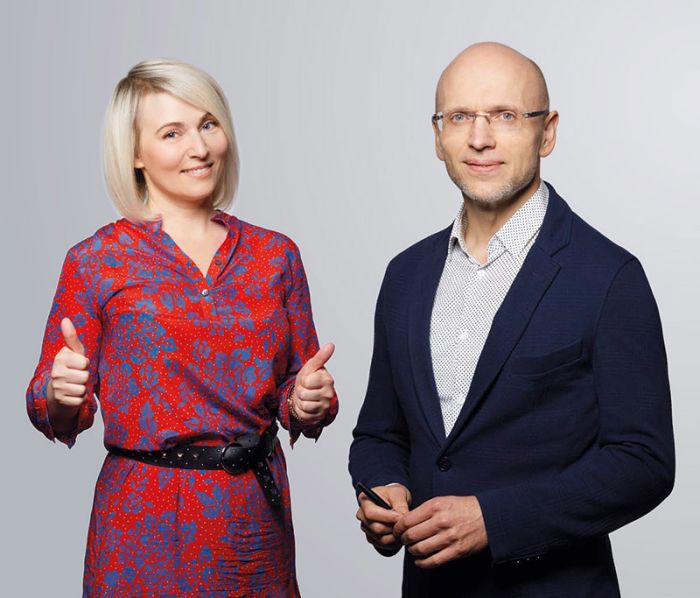 Małgorzata and Paweł Guzy
Our Kids: You are an example of how support and joining forces result in success. What does "success" mean to you?
Paweł Guzy: Thank you. For us, success is predominantly about setting a clear goal, and then consistently working towards it and finally achieving it. We develop this way of thinking among our students, through teacher-designed custom programs implemented in our schools.
These years of working together, supporting and inspiring each other allowed us to create solid foundations. We gave all our hearts to this and became deeply involved. We are consistent and don't take shortcuts. We have been sticking to our principles for 25 years. I think that success also means getting the trust of students and parents. Our students' success is our success. Not only the success they achieve after graduation, but also what they achieve here every day.
Małgorzata Guzy: I agree with what my husband has said and I would like to add something. For me, our success is that we have managed to successfully combine high-level teaching with a friendly atmosphere conducive to development. I've always known that these two qualities are extremely important for children to be happy, responsible, and creative. That is why we have done everything to ensure that our school is staffed with people who understand our philosophy and willingly implement it. We have a great team. They're wonderful people—committed, empathetic, smiling, creative, proactive. Some have been with us for over 15 years. I also consider building such a team a great success. However, my personal success is that I'm a fulfilled person. I do what I love and I love what I do. I wish this to all our students and our entire team.
Our Kids: Is this year of particular importance?
Małgorzata Guzy: Yes, this year we're celebrating the 25th anniversary of our school. On this occasion, we would like to thank our entire fantastic team for their heart and great commitment. We also thank the parents for their trust and daily commitment to our common goal, which is the success of our kids.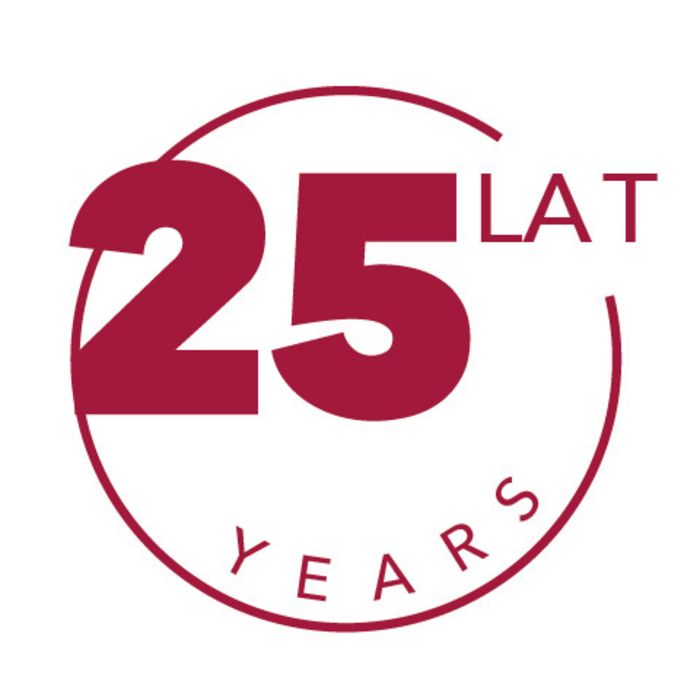 Our Kids: On the Academy International's website we can read that at each level of education in your institutions, teaching is based on an innovative bilingual language education program. How does it work?
Małgorzata Guzy: In our facilities, depending on the age of the children, we chose a bilingual language education program based on CLIL and language immersion. We were looking for methods of foreign language learning ​​that would be effective and positive for a child's development. On the basis of this knowledge, we have built bilingual education in our institutions.
In addition to the established program activities, children are "immersed" in the language. They learn without stress, unconsciously, in a completely natural way. We are often unaware of the great potential with which children are born. They want to get to know the world and learn. Bilingualism opens them to the world and gives them joy. It also prepares them for an adult life in which, as we all know, knowledge of languages, including English, is key to easy navigation across the global village of today's world.
Paweł Guzy: We employ a bilingual staff to implement this innovative program, which, like in bilingual families, consists of a Polish-speaking and English-speaking teachers. Thanks to this, kids communicate in two languages in all situations during the day. The Polish-speaking teacher uses Polish all the time, and the English-speaking teacher speaks only English. This is what language immersion in our facilities is all about. People who communicate in English speak or understand Polish, but children do not know it. This is especially important in the youngest groups, so that teachers can understand what non-English speaking children are saying to them.
Our Kids: How does this model work?
Paweł Guzy: It works very well. It may seem complicated and difficult, but it is not. Children feel safe and at home in such an environment. Qualified teachers with their friendly approach are primarily responsible for this sense of safety. Today, the challenge for us is to find good English teachers—it's not just a matter of teaching, but of wanting to be with children all day long. There are very few such teachers who love working with young children.
Our Kids: Academy International consists of nurseries, kindergartens. and schools. Now you're preparing to extend your offer to high school.
Paweł Guzy: Yes. We'd love to see the first Academy International high school open soon. Our goal is to enable students to pass the international diploma exam. This step is not only a fulfillment of our dreams, but also a response to the needs of young and talented teenagers. We watch and we listen. More and more high school students think about conquering the world. We want to make it easier for them, prepare them for it in the best possible way.
Our Kids: So you strive for the continuity of kids' educational experience, i.e., that they start from a nursery, go through kindergarten and primary school to high school, and go out into the world with full skills, certificates, and broad horizons?
Małgorzata Guzy: First of all, we want our students, parents, and our team to feel comfortable and safe. On this foundation, we try to build an environment of independence, trust, responsibility, and cooperation. That is why the principles of cooperation, communication, and values ​​are very important to us.
Paweł Guzy: We want to show our students that nowadays it's not only important to follow change, but also to focus on greater self-awareness, reaching into your deep, inner layers.
In this spirit, we want to provide young people with the best tools and competences of the future, such as creativity, critical thinking, flexibility, independence, responsibility, and cooperation. It's important for us to embed our philosophy in the students. We do it through innovative, unique custom programs. In our facilities, we implement the "I am a young leader" personality development project, a bilingual education program and a logical thinking development program.
Małgorzata Guzy: One of the elements of the personality development program is organizing TEDxkids @ academyinternational. We are the pioneers of this program in Warsaw. The second edition of the conference will be held in March 2021. Soon all the details will be available on our website and on Facebook. We're looking forward to the next meeting with kids.
Paweł Guzy: In our facilities, we also focus on the second extremely important element of child development—logical thinking. One of the elements of this program is chess, which children start in kindergarten. This royal game teaches not only logic, but also the rules of fair play, cooperation and respect for the other person. In school, in addition to classes in logical thinking, children have extended math.
Małgorzata Guzy: Our programs not only educate and support development, but help each child build emotional resilience and self-esteem, and believe in themselves, which is extremely important nowadays. I emphasize "every kid," because children are different and have their own unique characters. We make sure we approach everyone individually, with care and commitment.
Our Kids: What's your vision of Academy International in 5 or 10 years?
Paweł Guzy: We're currently working on increasing the quality of our educational offer, both in terms of education and organization. We want to develop in line with the needs of those we serve, create a new quality in education, meet the current needs of the students and equip them with modern skills. We're ready for the volatility of the world. We'll follow these changes, but we'll also still stick to our values, which have been unchanged for 25 years, and whose beneficial influence can be seen, for example, in our graduates, who fulfill their dreams and achieve both personal and professional success.