---
On this page:
---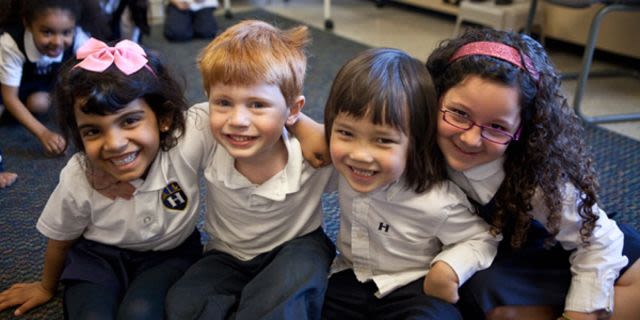 It's important to choose the right preschool for your child
Research on the human brain provides strong evidence of the importance of a child's early life for their development. Early childhood is perhaps the most crucial period affecting how a child progresses through the years.
Many scientists around the world have conducted in-depth research on the role of preschool education in a child's life, and have declared its importance. Parents are also beginning to recognize the influence the preschool years play on future development.
It's thus important to choose the right preschool for your child. Keep in mind, you shouldn't select one merely based on convenience, for instance, that it's closest to your home. When choosing a preschool, make sure you have the knowledge that will enable you to make an informed and good choice, similar to how you should approach choosing a school for your child.
We recommend the article Why is preschool so important? It discusses these issues in detail, looks at scientific research, and also gives tips about how to make the right choice.
Private preschool pros and cons
One of the biggest advantages of private preschool is the low student-to-staff ratios. This means that each child is given more attention than in a public preschool. It also allows educators to get to know each child better, which promotes learning and development.
Additional classes are another plus. Private preschools offer a wide range of appealing programs and activities. Keep in mind, though, a small child shouldn't be given too many extra activities, since they need ample time to play and rest. Many private preschools offer theatre and English classes, and you don't have to pay extra for them like you would in public preschool.
It's also worth considering the environment of a preschool. Private preschools tend to have a family-friendly atmosphere. It's easy for children to make friends, but a close-knit parent community also often emerges through various meetings and events. Make sure any preschool you're seriously considering has the right environment, culture, and feel.
One of the biggest concerns of private preschools is cost. Tuition fees, especially in large cities, can be high, requiring you to make some financial sacrifices.
Public preschool pros and cons
The major benefit of public preschool is its cost—it's (practically) free. Children are entitled to five hours for free (8am-1pm), and each subsequent hour costs 1 PLN. Food can also be purchased extremely cheaply: approximately 4 to 9 PLN per day. In some preschools, theatre and English classes are free, while in others you have to pay extra.
It's worth investigating which classes are free and which cost extra. Keep in mind, though, that public preschools typically don't offer as wide a range of additional classes, programs, and activities as private preschools.
There are normally parent committees in public preschools. Another benefit of public preschools is they need to follow government guidelines. This means, among other things, that the municipality is obliged to check whether all laws, e.g., regarding staff, are being followed.
A disadvantage of public preschools is the scarcity of spots available. This makes it difficult to find a place for your child, especially in larger cities, where there are too few institutions. Also, public preschools tend not to have a specific focus or area of development they emphasize. Another downside is the greater number of children in public preschool classes. This means teachers sometimes can't devote enough attention to each child and volunteers are often relied on.
Summary
Choosing a preschool for your child is very challenging: you'll need to consider your budget and the nature of your child, among other things. Some children don't develop major problems or need extra attention, but many do. Similarly, some parents have the money to send a child to a private preschool, while others don't.
Thus, before sending your child to preschool, make sure to do lots of research: find out all you can about your options before you make this very important decision.
Read our article about preschool education in Poland. Here you can learn more about private preschool in Warsaw, Krakow, Łódź, Poznań, Wrocław, Szczecin, and about bilingual, Catholic, Montessori, and international preschools.