---
On this page:
---

Przedszkole Numer Jeden participated in a contest for best preschools in Warsaw—it won the first prize and the title of "Warsaw Preschool of the Year 2018."
Our Kids talked to Edyta Frejek and Anna Modzelewska, teaching methodology expert in Przedszkole Numer Jeden.
The innovative Tablit program
Our Kids: You run an innovative education program called "Tablit." Could you tell me more about it?
Edyta Frejek: I was the first one to introduce this program in Wilanow, and most probably even in the whole city, right from the beginning of our preschool, on March 2nd, 2017. Our teachers have gone through extensive training, and obtained all the necessary certificates. As the Tablit program emphasizes, children need to learn about the world around them through activities, experiences, discoveries, and discussion. It does not force them to learn, but form the curiosity by creating a stimulus-rich educational environment.
The program was created at the Adam Mickiewicz University in Poznan, by a research team headed by Professor Katarzyna Dziubalska-Kołaczyk, whose members are Dr. Dawid Pietrala, Dr. Anna Basińska, Teresa Pietrala, and Urszula Zielińska.
The program also includes an interactive board, which is very important today, when technological innovation should also be introduced in preschool to benefit children. Apart from learning through play, children can also work through learning material, and this is done with the help of the interactive board.
Our Kids: What is the interactive board?
Edyta Frejek: It is a multimedia program which looks like a regular whiteboard, and on it all the necessary multimedia are used in certain projects. The Tablit program is project-based. One thematic project is tackled by all age groups for a period of one month. These themes are, for example: households, trees, the earth, the universe, humans, the laboratory, air, plants, and water.
It's a biology-based research program—kids organize a research centre, they make special arrangements to learn vocabulary, and create a network of questions. The project method makes it possible to base the learning on open subject matter. We also get a lot of information from the children themselves, appealing to their own experience. In our program, teachers have lots of fun, so there is no danger of burnout.
Our Kids: What are the parents' reactions?
Anna Modzelewska: The parents get very detailed information about what their children are working on. We inform them regularly about the aims and activities related to each project. They get emails informing them about upcoming themes, what the children will learn, the interesting elements associated with the theme, the literature they can read, and the topics they can discuss with other children. We're very open to including parents in the work of our preschool. Sometimes the parents bring interesting learning materials, such as books or supplies.
Edyta Frejek: And all this is intertwined with the English language, which is very important to us.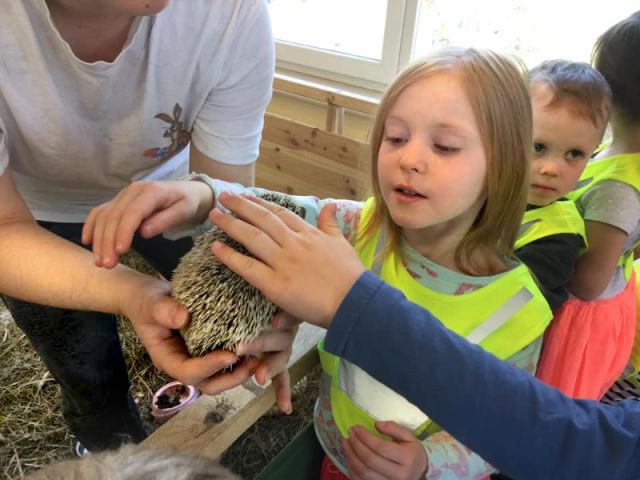 Bilingual education
Our Kids: What does language education look like in your preschool?
Edyta Frejek: In every room, apart from the teacher, we also have an English-language teacher, who is a native speaker, helping the children learn in English whatever is taught in Polish. There are precise scripts accompanying each theme.
Generally, the program is very well-designed and executed, but it also allows for quite a lot of creative elements that the teacher may introduce. Everything is based on open problems, questions, and experiences, and our children research and study in the English language. The native speaker is present not only in the classroom, but also when the children are involved in everyday activities, for example, he/she goes with the children to the kitchen, so the children can communicate in English in all these natural situations without any difficulty.
Our Kids: And what are the effects as far as their language acquisition is concerned?
Edyta Frejek: Quite incredible. Just imagine a child who is two years and eight months old, and can speak and ask questions in English. I often come to these classes, so I see how quickly children make progress. A lot depends on the age at which the child joins our preschool. Some parents enrol their kids at the age of 2.5 years, while others do so at 3.5 years, and then you can see a significant difference. If a child has been with us since the beginning, you can see that his/her English is much better.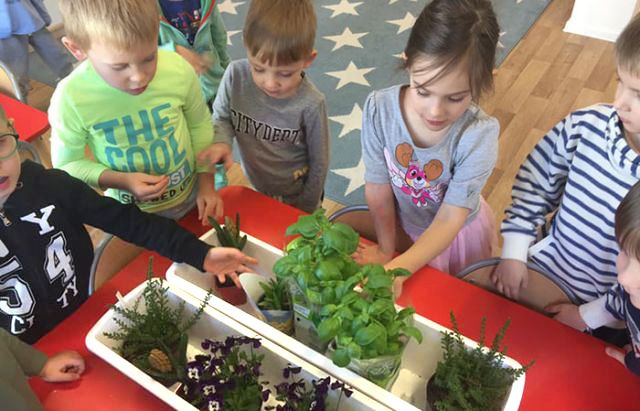 A speech pathologist and psychologist on site
Our Kids: What kinds of problems do you notice in children who come to your preschool?
Anna Modzelewska: Definitely children learn languages at different paces, and some experience speech problems such as lisping or difficulties in articulating some sounds.
Our Kids: I noticed in your materials that you provide the services of a speech pathologist and a psychologist.

Anna Modzelewska: The assistance of the speech pathologist and psychologist is available in our preschool full-time—we actually employ a speech pathologist who at the very beginning conducts a screening test identifying children who require individual assistance, and later works with them. Twenty-three children use this program. Also, our teachers use various speech pathology prevention techniques in different exercises and games.
Edyta Frejek: Our speech pathologist, who in fact is a neuropathologist, is employed full-time. She also meets with parents to explain to them many facts about language and speech development, that everything comes at the right time, and usually there's no need to panic. For a child at this age, a month or two is a very long time which can make a big difference. "Ciocia Kasia"—because our children address all the teachers as "ciocia" (auntie)—other than conducting screening tests at the beginning, participates in classes, observes the teachers and the students, and can support teachers and parents, but most importantly, the kids themselves.
Our Kids: So you don't call a psychologist or speech pathologist when a problem appears?
Edyta Frejek: No, this was my dream when I was starting the preschool—not to have to wait until a child starts behaving aggressively, but to provide this kind of support to all the kids. We always use positive language, so we don't say "don't run," but "our feet move slowly." This positive attitude is very important in children's development. For us, the emotional development of children is very important.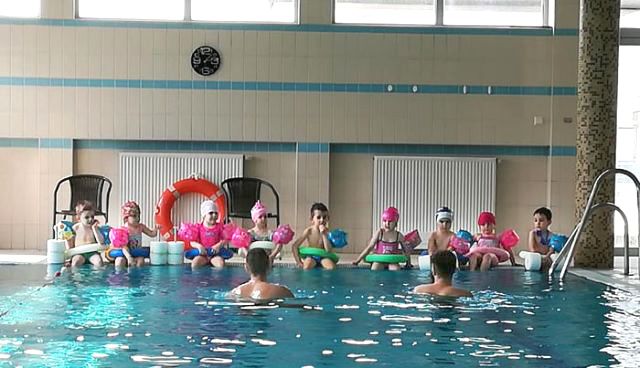 Group size
Our Kids: How many teachers do you have, and how large are your groups?
Ann Modzelewska: We have up to 10 children in each age group. At all times we have three teachers: the main teacher and his/her assistant, and on top of this, a native speaker of English is also present, so it's a very low student-to-teacher ratio.
Extra activities
Our Kids: Do you have sports activities for children?
Edyta Frejek: We have a very wide range of extra activities, and they're all included in our fees. Once a week the children have swimming lessons at the local swimming pool. Our five year olds are excellent swimmers. We also have the dance program—recently we participated in the Mazovian region dance competition. We also offer horseback riding connected with hippotherapy. Once a month we organize a trip, and every two months we invite a theatre, which visits us. Remember that I come from the mountains—so of course our children ski in winter. We have downhill skiing instruction in Gorka Szczesliwicka. They make excellent progress, and have lots of fun.
The interactive carpet
Our Kids: I learned on your website about the interactive carpet. What is it?
Anna Modzelewska: It's a good question because everybody is interested in it, including our school inspectors. It's a projector in the ceiling which projects all kinds of images onto the carpet. We can participate in a soccer game, trace animals' footprints, and have the children guess what they are. The children can swim because it can project water. It's also used for exercise and gymnastics. It has both visual and sound effects, and the kids love it. For them, it's special fun to go on "the magical carpet."
What's missing
Our Kids: How would you briefly describe your school?
Edyta Frejek: Our preschool has a homey atmosphere—it's fully professional, but we provide a safe and warm atmosphere, similar to one's home. I must admit there is one thing which is missing—boredom.